The Old Ways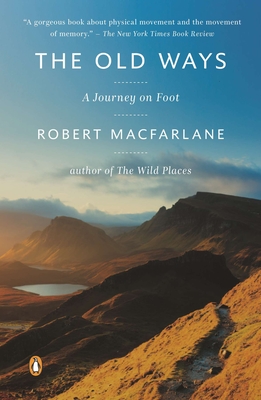 The Old Ways
A Journey on Foot
Penguin Books, Paperback, 9780147509796, 433pp.
Publication Date: September 24, 2013
* Individual store prices may vary.
Buy Now
or
Shop Local
Enter your zip code below to purchase from an indie close to you.
Description
The acclaimed author of "The Wild Places" examines the subtle ways we are shaped by the landscapes through which we move
In this exquisitely written book, which folds together natural history, cartography, geology, and literature, Robert Macfarlane sets off to follow the ancient routes that crisscross both the landscape of the British Isles and its waters and territories beyond. The result is an immersive, enthralling exploration of the voices that haunt old paths and the stories our tracks tell. Macfarlane's journeys take him from the chalk downs of England to the bird islands of the Scottish northwest, from Palestine to the sacred landscapes of Spain and the Himalayas. He matches strides with the footprints made by a man five thousand years ago near Liverpool, sails an open boat far out into the Atlantic at night, and commingles with walkers of many kinds, discovering that paths offer a means not just of traversing space but also of feeling, knowing, and thinking.
Praise For The Old Ways…
Praise for The Old Ways:

"With a steady command of the literature and history of each place he visits, [Macfarlane] tries 'to read landscapes back into being.' His sentences bristle with the argot of cartographers, geologists, zoologists, and botanists." —The New Yorker                                                                              "Macfarlane explores the meditative aspects of being a pedestrian…not so much a travelogue as a travel meditation, it favors lush prose, colorful digressions…if you've ever had the experience, while walking, of an elusive thought finally coming clear or an inspiration surfacing after a long struggle, The Old Ways will speak to you – eloquently and persuasively." —The Seattle Times                                                                              
"A backpack of assorted expeditions charted by a writer whose poetic and scientific skills are equal to one another…there are some splendid set pieces." —The Wall Street Journal                                                                                
"A wonderfully meandering account of the author's peregrinations and perambulations through England, Scotland, Spain, Palestine, and Sichuan…Macfarlane's particular gift is his ability to bring a remarkably broad and varied range of voices to bear on his own pathways and to do so with a pleasingly impressionist yet tenderly precise style." —Aengus Woods, themillions.com   "Macfarlane seems to know and have read everything…his every sentence rewrites the landscape in language crunchy and freshly minted and deeply textured. Surely the most accomplished (and erudite) writer on place to have come along in years." —Pico Iyer
"Luminous, possessing a seemingly paradoxical combination of the dream-like and the hyper-vigilant, The Old Ways is, as with all of Macfarlane's work, a magnificent read. Each sentence can carry astonishing discovery." —Rick Bass  
"In Macfarlane, British travel writing has a formidable new champion… Macfarlane is read above all for the beauty of his prose and his wonderfully innovative and inventive way with language…he can write exquisitely about anywhere." —William Dalrymple, The Observer
"In this intricate, sensuous, haunted book, each journey is part of other journeys and there are no clear divisions to be made…the walking of paths is, to [Macfarlane], an education, and symbolic, too, of the very process by which we learn things: testing, wandering about a bit, hitting our stride, looking ahead and behind." —Alexandra Harris, The Guardian