The Age of Anxiety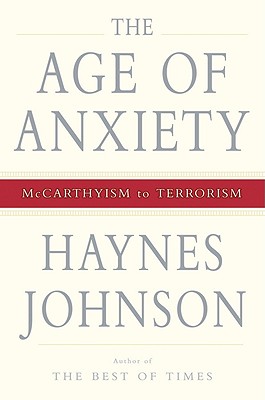 The Age of Anxiety
McCarthyism to Terrorism
Houghton Mifflin Harcourt, Hardcover, 9780151010622, 624pp.
Publication Date: October 1, 2005
* Individual store prices may vary.
Not Currently Available for Direct Purchase
or
Shop Local
Enter your zip code below to purchase from an indie close to you.
Description
For five long years in the 1950s, Senator Joseph McCarthy and his anti-Communist crusade dominated the American scene, terrified politicians, and destroyed the lives of thousands of our citizens. In this masterful history, Haynes Johnson re-creates that time of crisis-of President Eisenhower, who hated McCarthy but would not attack him; of the Republican senators who cynically used McCarthy to win their own elections; of Edward R. Murrow, whose courageous TV broadcast began McCarthy's downfall; and of mild-mannered lawyer Joseph Welch, who finally shamed McCarthy into silence.

Johnson tells this monumental story through the lens of its relevance to our own time, when fear again affects American behavior and attitudes, for he believes now, as then, that our civil liberties, our Constitution, and our nation are at stake as we confront the ever more difficult task of balancing the need for national security with that of personal liberty.

Compelling narrative history, insightful political commentary, and intimate personal remembrance combine to make The Age of Anxiety a vitally important book for our time.

Extremism-and the suspicion and hatred it engenders-may be Joe McCarthy's most lasting legacy . . . For these and other reasons, while McCarthy and the leading players of his time- Truman and Acheson, Eisenhower and Nixon, the Kennedy brothers and LBJ, Cohn and Schine, Stalin and Mao-have long since passed from the scene, McCarthyism remains a story without an end. -f rom the book.
About the Author
Haynes Johnson is a Pulitzer Prize-winning journalist and author of the bestsellers Sleepwalking Through History and The Bay of Pigs. He is a regular on The NewsHour with Jim Lehrer and lives in Washington, D.C.
Praise For The Age of Anxiety…
PRAISE FOR THE BEST OF TIMES

"Beautifully written [and] as full of juicy tidbits as a cherry cake. [Johnson shows] how witty, perceptive and morally grown up American political journalism can be at its best." --The Economist

"An informed, balanced and . . . passionate catalog of the national indulgence and an examination of the forces that fed it. . . . Gripping. A vivid and reliable reminder of what we have been through."--The New York Times