Dear Money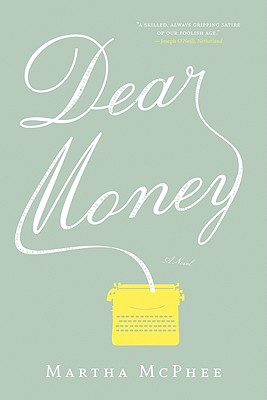 Dear Money
Houghton Mifflin Harcourt, Hardcover, 9780151011650, 352pp.
Publication Date: June 1, 2010
* Individual store prices may vary.
Buy at Local Store
Enter your zip code below to purchase from an indie close to you.
or
Not Currently Available for Direct Purchase
Description
In this Pygmalion tale of a novelist turned bond trader, Martha McPhee brings to life the greed and riotous wealth of New York during the heady days of the second gilded age. India Palmer, living the cash-strapped existence of the writer, is visiting wealthy friends in Maine when a yellow biplane swoops down from the clear blue sky to bring a stranger into her life, one who will change everything.The stranger isWin Johns, a swaggering and intellectually bored trader of mortgage- backed securities. Charmed by India's intelligence, humor, and inquisitive nature--and aware of her near-desperate financial situation--Win poses a proposition: "Give me eighteen months and I'll make you a world-class bond trader." Shedding her artist's life with surprising ease, India embarks on a raucous ride to the top of the income chain, leveraging herself with crumbling real estate, never once looking back . . .Or does she?
With a light-handed irony that is by turns as measured as Claire Messud's and as biting as Tom Wolfe's, Martha McPhee tells the classic American story of people reinventing themselves, unaware of the price they must pay for their transformation.

Praise For Dear Money…
An O, The Oprah Magazine Pick: June's "10 Books to Read Right Now"

"In this trenchant satire of the '00s, characters learn that sometimes when you pursue your passion, you pay a high price." --People (4/4 stars)

"It's a delicious premise, a writer's seductive fantasy: What if a well-respected but financially struggling four-time novelist could be transformed, Pygmalion-like, into a hugely successful Wall Street bond trader? In the words of Dear Money's heroine, India Palmer, the result could be "gobs of money," or it could be this playful, witty, couldn't-be-more-timely morality tale of early 21st century greed and fall." --The San Francisco Chronicle




"In her new novel, McPhee tenders a funny, generous piece of social commentary, populated by a cast of characters who are amusingly, painfully human."--The Boston Globe

"What subject could be riper for satire than the high-flying, self-deluded fraternity of Wall Street traders? Martha McPhee's giddy new novel, Dear Money, is a Pygmalion tale for the late Gilded Age..."--Newsday

"Martha McPhee's fourth novel wouldn't be so funny if it didn't ring so true. As the narrator of Dear Money, India Palmer has published four novels, none of which has sold more than 5,000 copies, and has written a fifth, which she had 'come to hope…would be the winning ticket in the literary lottery where art met commerce.' Though it would be a mistake to reduce India to an authorial stand-in, the delicious irony of McPhee's novel is that it deserves to be her own lottery winner, the breakout book that attracts a popular readership exceeding those drawn by the critical notices and prize nominations for her earlier work." —Kirkus Reviews (starred)

"A sharp and funny satire about wealth and fame… A lively Pygmalion tale, examining the connections among money, happiness and art." --The Minneapolis Star-Tribune

"Delivering virulent social satire with a velvet, humanitarian touch, McPhee's timely send-up deftly parodies the fallout from misplaced priorities."—Booklist

"A skilled, always gripping satire of our foolish age."—Joseph O'Neill, author of Netherland

"I can't remember the last time I couldn't put a book down. I read Dear Money in cars, in waiting rooms, even at a rest stop on the turnpike. I read whole passages out loud to my husband. Martha McPhee is a wickedly good social observer, a writer of beautiful, lyrical prose, and a consummate storyteller. This is a very smart novel that unpacks small surprises and pleasures on every single page."—Dani Shapiro, author of Devotion


"Martha McPhee writes with verve and uncanny insight about those recent, heady dreams of easy wealth. This New York Pygmalian story takes us beyond what we thought we knew about money and art and all their precarious alliances, in an adventure that recreates the city's temptations, both material and idealistic. Dear Money is conceived with such cutting precision and grace, it will make readers think of a contemporary Edith Wharton, but there's a dark mischief here too, shades of Andy Warhol. Full of beautiful, unflinching sentences, this is an uncompromising, brave, brilliant story."—Rene Steinke, author of Holy Skirts