Split-Second Persuasion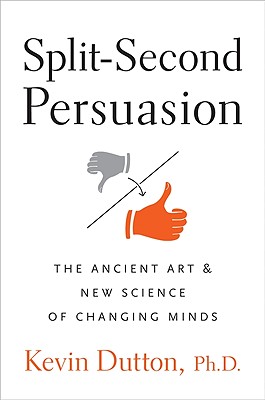 Split-Second Persuasion
The Ancient Art and New Science of Changing Minds
Houghton Mifflin, Hardcover, 9780151012794, 296pp.
Publication Date: February 2011
* Individual store prices may vary.
Shop Local
Enter your zip code below to find indies closest to you.
Description
How many times a day do you think someone tries to persuade you? Twenty? Thirty? Actually it's more like "400." When you imagine a society based on coercion you start to see how important persuasion is; it literally keeps us alive. Now psychologist Kevin Dutton has identified a powerful strain of immediate, instinctual persuasion, an elixir of influence that can immediately help you disarm skeptics, win arguments, close the deal, get the guy. Mapping the cutting-edge psychology and neuroscience of this incisive newinfluence, he introduces us to the natural super-persuaders in our midst Buddhist monks, magicians, advertisers, con men, hostage negotiators, even psychopaths. He shows us which simple triggers can make someone trust you immediately; what hidden pathways in the brain lead us to believe something even when we know it's not true; how group dynamics can make us more tolerant or deepen our extremism; and what we can learn from newborns about winning arguments. Dutton's fascinating and provocative book will help anyone tap into the power of split-second persuasion.
About the Author
Dr. Kevin Dutton is a research psychologist at the Calleva Research Centre for Evolution and Human Science, Magdalen College, University of Oxford. He is a fellow of the Royal Society of Medicine and the Society for the Scientific Study of Psychopathy. Dutton is the author of "Split-Second Persuasion." His writing and research have been featured in "Scientific American Mind", "New Scientist", "The Guardian", "Psychology Today", and "USA Today." He lives in Oxford, England.
Praise For Split-Second Persuasion…
"In this eminently readable book Dutton, avoiding pop-psychology, presents brilliant and highly original advice on how to get someone to do something. A handy skill in courtship, business, science and law but also useful to us in all our daily lives."
--V.S. RAMACHANDRAN
Author of Phantoms in the Brain and A Brief Tour of Human Consciousness
"Offers some powerful insights into the art and science of getting people to do what you want . . . The book contains plenty of tricks to help you get your own way or turn around a sticky situation."
--NEW SCIENTIST
"Hugely entertaining and extremely thought-provoking."
--PROFESSOR RICHARD WISEMAN
Author of 59 Seconds: Think A Little, Change A Lot
"Kevin Dutton is not the Messiah. But he's got a whole bunch of stories and parables that shed new light on how we are persuaded."
--TERRY JONES and MICHAEL PALIN

"Entertaining and sometimes illuminating."
--KIRKUS REVIEWS