Gifts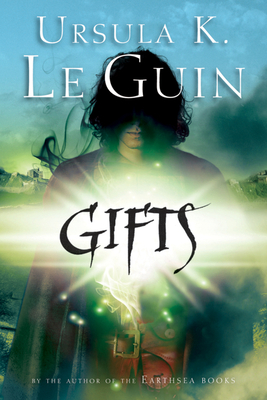 Gifts
Harcourt Paperbacks, Paperback, 9780152051242, 286pp.
Publication Date: April 1, 2006
* Individual store prices may vary.
Buy Now
or
Shop Local
Enter your zip code below to purchase from an indie close to you.
Description
Scattered among poor, desolate farms, the clans of the Uplands possess gifts. Wondrous gifts: the ability--with a glance, a gesture, a word--to summon animals, bring forth fire, move the land. Fearsome gifts: They can twist a limb, chain a mind, inflict a wasting illness. The Uplanders live in constant fear that one family might unleash its gift against another. Two young people, friends since childhood, decide not to use their gifts. One, a girl, refuses to bring animals to their death in the hunt. The other, a boy, wears a blindfold lest his eyes and his anger kill.

In this beautifully crafted story, Ursula K. Le Guin writes of the proud cruelty of power, of how hard it is to grow up, and of how much harder still it is to find, in the world's darkness, gifts of light.

Includes a reader's guide and a sample chapter from the companion title Voices.
About the Author
Ursula Kroeber Le Guin was born in 1929 in Berkeley, and lives in Portland, Oregon. As of 2014, she has published twenty-one novels, eleven volumes of short stories, four collections of essays, twelve books for children, six volumes of poetry, and four of translation, and has received many honors and awards, including the Hugo, Nebula, National Book Award, and PEN/Malamud. Her most recent publications are Finding My Elegy: New and Selected Poems and The Unreal and the Real: Selected Stories.
Praise For Gifts…
"A brilliant exploration of the power and responsibilty of gifts . . . Provocative."--Publishers Weekly (starred review)

"Intriguing as a coming-of-age allegory . . . rich in the earthy magic and intelligent plot twists that made the Earthsea novels classics."--Booklist (starred review)

"Science-fiction icon Le Guin probes the natures of fear, power, and love in this darkly beautiful, quietly provocative novel."--Family Fun

"Fantasy, artfully spun by an American master." --Parade

"One can recommend this book without hesitation to teens looking for a great fantasy read that does not follow the standard quest format."--VOYA