The Vampire's Curse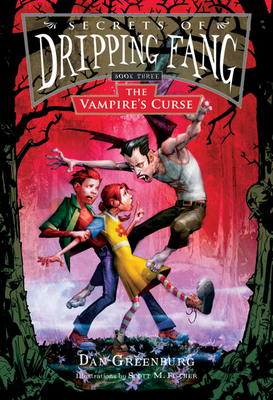 The Vampire's Curse
Harcourt Children's Books, Hardcover, 9780152054694, 127pp.
Publication Date: March 2006
* Individual store prices may vary.
Shop Local
Enter your zip code below to find indies closest to you.
Description
In an astounding turn of events, the Shluffmuffins twins' long-lost father has reappeared years after his tragic Porta Potti accident. Wally and Cheyenne, of course, are thrilled to see their dear old dad again. But would it be rude to point out how his skin appears to be rotting and falling off in chunks? Or that his breath smells distinctly like bloated roadkill? Come to think of it, he looks an awful lot like . . . well, a zombie. So imagine the twins' delight when they discover that their friend Professor Spydelle has developed a special life-restoring elixir, the only known cure for zombiism.

Hmmmm. Unfortunately, it seems there are still some kinks to work out on that special Elixir of Life. It cures Dad of his zombiism, only to turn him into . . . a vampire.

It would seem that things couldn't get much worse. But when two faces that look suspiciously like giant ants appear in Wally and Cheyenne's bedroom window one night, things take a turn from dismal . . . to dire.
About the Author
Dan Greenburg s seventy-three books have been translated into twenty-four languages and include the two previous bestsellers in the Max Segal series, Love Kills and Exes. Dan has also written the humor books How to Be a Jewish Mother and How To Make Yourself Miserable, as well as many movies, TV shows, and Broadway shows. He s been a stand-up comedian and a tiger tamer, among other things. To research Fear Itself, Dan spent two years with NYPD homicide cops, going to crime scenes and autopsies to check out corpses, accompanying detectives on high-speed car chases and door-busting arrests. Dan also spent several weeks doing research in maximum security prisons, interviewing convicted murderers in their cells.

Angela DiTerlizzi is a mom, wife, and author who loves writing books for children. She and her husband, bestselling author/illustrator Tony DiTerlizzi, reside with their daughter in Amherst, Massachusetts, and Jupiter, Florida.

Scott M. Fischer has illustrated many books, including the New York Times bestselling Peter Pan in Scarlet, Jump!, Animals Anonymous, and the Secrets of Dripping Fang series. Scott graduated from the Savannah College of Art and Design. He lives in western Massachusetts with his wife, daughter, dog, cat, goldfish, and a cockatoo named Fred.