Dillweed's Revenge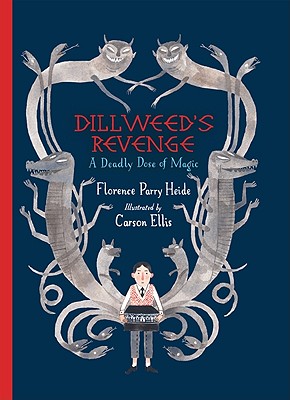 Dillweed's Revenge
A Deadly Dose of Magic
Harcourt Brace and Company, Hardcover, 9780152063948, 48pp.
Publication Date: September 6, 2010
* Individual store prices may vary.
Not Currently Available for Direct Purchase
or
Shop Local
Enter your zip code below to purchase from an indie close to you.
Description
Dillweed's parents go on adventures and leave him behind with Umblud the butler and Perfidia the maid, who treat him like their slave. Neither Umblud or Perfidia or the parents appreciate Dillweed's cherished pet, a creature named Skorped. When they threaten Skorped's life and well-being, Dillweed opens his black box and casts the runes, which releases smoky monsters, who do the dirty deeds. And then it's Dillweed turn to go on adventures. Filled with nasty characters, beautiful details, and subtle humor, this stylish book follows in the tradition of the deliciously dark work of Edward Gorey, so Dillweed's happy ending undoubtedly means "the end" for someone else.
About the Author
Florence Parry Heide is an award-winning author of more than a hundred children's books, including the Treehorn series, illustrated by Edward Gorey, and "Princess Hyacinth (The Surprising Tale of a Girl Who Floated), " illustrated by Lane Smith. She lives in Kenosha, Wisconsin.
Colin Meloy once wrote Ray Bradbury a letter, informing him that he "considered himself an author too." He was ten. Since then, Colin has gone on to be the singer and songwriter for the band the Decemberists, where he channels all of his weird ideas into weird songs. With the Wildwood Chronicles, he is now channeling those ideas into novels.
As a kid, Carson Ellis loved exploring the woods, drawing, and nursing wounded animals back to health. As an adult, little has changed except she is now the acclaimed illustrator of several books for children, including Lemony Snicket's The Composer Is Dead, Dillweed's Revenge by Florence Parry Heide, and The Mysterious Benedict Society by Trenton Lee Stewart.
Colin and Carson live with their sons, Hank and Milo, in Oregon.
Praise For Dillweed's Revenge…
"Like Dillweed, Heide and Ellis have worked a little black magic. Together, they've conjured up a delightful tale of revenge. And empowerment. As wickedly fun as Gorey, Dahl, or Belloc"—Lane Smith   "The story is unnerving, the characters are unpleasant, and the artwork is unsettling. I am going to read this book again and again."—Lemony Snicket 

"Well-deserved woe unto adults who do Dillweed wrong!...His parents are off voyaging, and he's poetically jealous: 'Dillweed liked to go places. He liked to have adventures. He liked to have a good time. His parents went places. His parents had adventures. His parents had a good time. The parents. Not Dillweed'...Good, macabre fun."—Kirkus Reviews, starred review


"Carson Ellis, with her signature palate and line character, has created an utterly charming set of illustrations for this remarkable book."—The Huffington Post

"Young lovers of Gaiman and Gorey will relish the gruesome fun of this parental cautionary tale."—The Bulletin