All the Names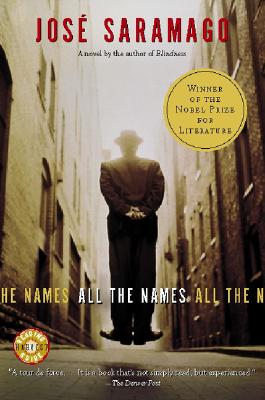 All the Names
Harvest Books, Paperback, 9780156010597, 245pp.
Publication Date: October 2001
* Individual store prices may vary.
Shop Local
Enter your zip code below to find indies closest to you.
Description
Senhor Jose is a low-grade clerk in the city's Central Registry, where the living and the dead share the same shelf space. A middle-aged bachelor, he has no interest in anything beyond the certificates of birth, marriage, divorce, and death that are his daily routine. But one day, when he comes across the records of an anonymous young woman, something happens to him. Obsessed, Senhor Jose sets off to follow the thread that may lead him to the woman-but as he gets closer, he discovers more about her, and about himself, than he would ever have wished.
The loneliness of people's lives, the effects of chance, the discovery of love-all coalesce in this extraordinary novel that displays the power and art of Jose Saramago in brilliant form.

About the Author
JOSE SARAMAGO (1922 2010) was the author of many novels, among them Blindness, All the Names, Baltasarand Blimunda, and The Year of the Death of Ricardo Reis. In 1998 he was awarded the Nobel Prize for Literature.

Javier Marias is an award-winning Spanish novelist. He is also a translator and columnist, as well as the current king of Redonda. He was born in Madrid in 1951 and published his first novel at the age of nineteen. He has held academic posts in Spain, the US (he was a visiting professor at Wellesley College) and Britain, as a lecturer in Spanish Literature at Oxford University. He has been translated into 34 languages, and more than six million copies of his books have been sold worldwide. In 1997 he won the Nelly Sachs Award; the Comunidad de Madrid award in 1998; in 2000 the Grinzane Cavour Award, the Alberto Moravia Prize, and the Dublin IMPAC Award. He also won the Spanish National Translation Award in 1979 for his translation of Tristram Shandy in 1979. He was a professor at Oxford University and the Complutense of Madrid. He currently lives in Madrid.
Praise For All the Names…
"A psychological, even metaphysical thriller that will keep you turning the pages in spite of yourself, and with growing alarm and alacrity."-The Seattle Times
"A novel that reminds readers how much loneliness can be like death. . . . Saramago is one of the best."
-Susan Salter Reynolds, Los Angeles Times
"Within the first few pages, Saramago establishes a tension that sings on the page, rises, produces stunning revelations and culminates when the final paragraph twists expectations once again."-Publishers Weekly (starred)
"From the beginning, Saramago is in perfect control of the narrative, and the result is a tour de force."-Denver Post
PRAISE FOR BLINDNESS
"Blindness is a shattering work by a literary master."
-The Boston Globe
"This is an important book, one that is unafraid to face all the horrors of the century."-The Washington Post
"Extraordinarily nuanced and evocative . . . This year's most propulsive, and profound, thriller."-The Village Voice