It's the Little Things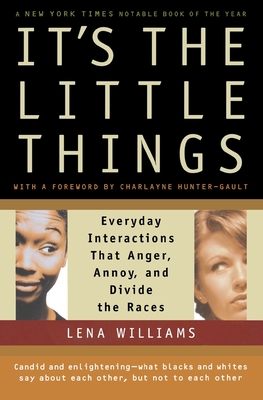 It's the Little Things
Everyday Interactions That Anger, Annoy, and Divide the Races
Harvest Books, Paperback, 9780156013482, 304pp.
Publication Date: January 2002
* Individual store prices may vary.
Shop Local
Enter your zip code below to find indies closest to you.
Description
New York Times veteran Lena Williams candidly explores the everyday occurrences that strain racial relations, reaching a conclusion that "no one could disagree with" (The New York Times Book Review)
Although we no longer live in a legally segregated society, the division between blacks and whites never seems to go away. We work together, go to school together, and live near each other, but beneath it all there is a level of misunderstanding that breeds mistrust and a level of miscommunication that generates anger. Now in paperback, this is Lena Williams's honest look at the interactions between blacks and whites-the gestures, expressions, tones, and body language that keep us divided.
Frank, funny, and smart, It's the Little Things steps back from academia and takes a candid approach to race relations. Based on her own experiences as well as what she has learned from focus groups across the United States, Lena Williams does for race what Deborah Tannen did for gender. Finally, we have a book that traverses the color lines to help us understand, and eliminate, the alarmingly common interactions that get under the skin of both blacks and whites.

About the Author
Lena Williams, left, is a twenty-five-year veteran of the New York Times. Currently covering sports, she is the senior delegate of the Author's Guild at the New York Times. Her article "It's the Little Things" won the National Association of Black Journalists award for feature writing. She lives in New York City.

Charlayne Hunter-Gault has been a journalist for more than 40 years and has worked in every journalistic medium. She has received numerous awards for her reporting in general, and specifically for her coverage of Africa. In 1985, she received broadcast journalism's highest award--a George Foster
Peabody for her 1985 five-part MacNeil/Lehrer Newshour series, "Apartheid's People." Hunter-Gault earned another Peabody in 1998 for her overall coverage of Africa for National Public Radio. She also won awards for "Rights and Wrongs," a television newsmagazine reporting on human rights, which she
anchored. Hunter-Gault has lived in Africa since 1997, working as Chief Africa Correspondent for National Public Radio, based in Johannesburg, and later as Johannesburg Bureau Chief for CNN, a position she held until 2005, when she left to pursue independent journalistic projects, including
reporting on the continent for NPR as a special correspondent. She is also the author of In My Place, a personal memoir of the Civil Rights Movement and her own role in it as the first black woman to attend the University of Georgia.

Praise For It's the Little Things…
PRAISE FOR IT'S THE LITTLE THINGS
"Socially penetrating. . . . [This] should be put in every schoolchild's hand as soon as the youngster can understand it."-The Boston Globe
"A lighter discourse on the ultra-serious matter of race in America . . . A sounding board for blacks and whites concerned with bridging the racial divide."-Newsday
"The kind of reading that will make some black folks chuckle . . . A promising sort of harmony that's especially impressive."-The African Sun Times
"Sassy and informative, It's the Little Things lets blacks and whites walk a mile in each others' shoes."-The Christian Science Monitor