Narrative Poems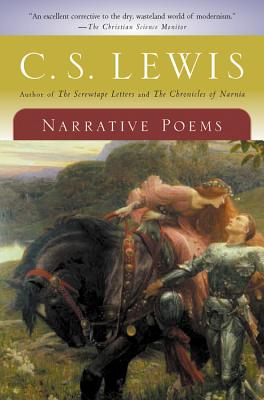 Narrative Poems
Mariner Books, Paperback, 9780156027984, 192pp.
Publication Date: December 23, 2002
* Individual store prices may vary.
Buy at Local Store
Enter your zip code below to purchase from an indie close to you.
or
Buy Here
Description
" You stranger, long before your glance can light
Upon these words, time will have washed away
The moment when I first took pen to write . . . "
An essayist, novelist, and poet, C.S. Lewis combines all of his talents in "Narrative Poems." Even when composing his prose works, such as his autobiography "Surprised by Joy," Lewis wrote his first drafts in verse, so highly did he think of the narrative poem. Collected here are the four completed poems by Lewis: Dymer, Launcelot, The Nameless Isle, and The Queen of Drum. Though only Dymer was published in his lifetime, these poems display Lewis's deep love for medieval and Renaissance poetry and themes, the influence of which can be seen throughout his fiction.
"If the mode of the fantastic, of elves, hags, castles, and 'damosels clothed in bright pale airy clothes' is . . . for you, then come on in." "The Christian Science Monitor.
About the Author
Clive Staples Lewis (1898-1963) was one of the intellectual giants of the twentieth century and arguably one of the most influential writers of his day. He was a Fellow and Tutor in English Literature at Oxford University until 1954, when he was unanimously elected to the Chair of Medieval and Renaissance Literature at Cambridge University, a position he held until his retirement. He wrote more than thirty books, allowing him to reach a vast audience, and his works continue to attract thousands of new readers every year. His most distinguished and popular accomplishments include Out of the Silent Planet, The Great Divorce, The Screwtape Letters, and the universally acknowledged classics The Chronicles of Narnia. To date, the Narnia books have sold over 100 million copies and have been transformed into three major motion pictures.
Clive Staples Lewis (1898-1963) fue uno de los intelectuales mas importantes del siglo veinte y podria decirse que fue el escritor cristiano mas influyente de su tiempo. Fue profesor particular de literatura inglesa y miembro de la junta de gobierno en la Universidad Oxford hasta 1954, cuando fue nombrado profesor de literatura medieval y renacentista en la Universidad Cambridge, cargo que desempeno hasta que se jubilo. Sus contribuciones a la critica literaria, literatura infantil, literatura fantastica y teologia popular le trajeron fama y aclamacion a nivel internacional. C. S. Lewis escribio mas de treinta libros, lo cual le permitio alcanzar una enorme audiencia, y sus obras aun atraen a miles de nuevos lectores cada ano. Sus mas distinguidas y populares obras incluyen Las Cronicas de Narnia, Los Cuatro Amores, Cartas del Diablo a Su Sobrino y Mero Cristianismo.
J.F. Lewis lives in Birmingham, Alabama and is older than is necessary. He decided that he wanted to be a writer when a supposed creative writing teacher questioned his sanity and suggested therapy. The author spent eight wonderful years working in a comic and game shop, until financial considerations required him to become a corporate schmoe. He abides with his patient wife, two adorable sons, and an ornery Akita.
Andrew Lewis is a computer scientist by training and an IT consultant, Web Designer and freelance journalist by trade. He has lectured to postgraduate and professional groups on subjects as diverse as optimization, hardware hacking and 3D scanning.He is a keen advocate of Open Source software, hardware and science. He is a member of the ACM SIGGRAPH and ACM SIGACT groups. His interests lie in 3D scanning, Algorithmics, Python and hardware hacking.