Baudolino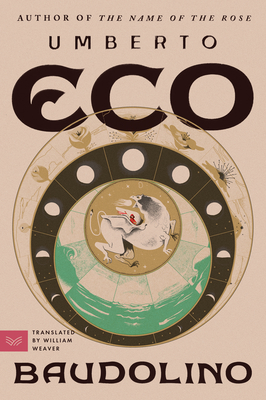 Baudolino
Mariner Books, Paperback, 9780156029063, 544pp.
Publication Date: October 2003
* Individual store prices may vary.
Shop Local
Enter your zip code below to find indies closest to you.
Description
It is April 1204, and Constantinople, the splendid capital of the Byzantine Empire, is being sacked and burned by the knights of the Fourth Crusade. Amid the carnage and confusion, one Baudolino saves a historian and high court official from certain death at the hands of the crusading warriors and proceeds to tell his own fantastical story.

Born a simple peasant in northern Italy, Baudolino has two major gifts-a talent for learning languages and a skill in telling lies. When still a boy he meets a foreign commander in the woods, charming him with his quick wit and lively mind. The commander-who proves to be Emperor Frederick Barbarossa-adopts Baudolino and sends him to the university in Paris, where he makes a number of fearless, adventurous friends.

Spurred on by myths and their own reveries, this merry band sets out in search of Prester John, a legendary priest-king said to rule over a vast kingdom in the East-a phantasmagorical land of strange creatures with eyes on their shoulders and mouths on their stomachs, of eunuchs, unicorns, and lovely maidens.

With dazzling digressions, outrageous tricks, extraordinary feeling, and vicarious reflections on our postmodern age, this is Eco the storyteller at his brilliant best.
About the Author
Umberto Eco was born in 1932 in Alessandria, Italy. He is a professor of semiotics at the University of Bologna, a philosopher, historian, literary critic and aesthetician. He is the author of the international bestselling novels "The Name of the Rose" and "The Island of the Day Before", as well as three collections of popular essays, "Travels in Hyperreality, Misreadings "and "How to Travel with a Salmon & Other Essays". Mr. Eco lives in Milan.

WILLIAM WEAVER has been the leading translator of Italian writing into English for half a century and several samples of his own work are included in "Open City," Among his previous books is "A Legacy of Excellence: The Story of Villa I Tatti," Weaver divides his year among Italy, New York City, and Annandale-on-Hudson, where he is on the faculty of Bard College.


Praise For Baudolino…
PRAISE FOR BAUDOLINO
"Baudolino, with its richly variegated haul of medieval treasures, remains compulsively readable." --The New York Times Book Review

"Eco puts forth the question that perpetually beguiles him and with which he perpetually beguiles the rest of us: If a teller of tales tells us he's telling the truth, how can we know for sure what really happened?"-The New Yorker

"Baudolino manifests many of the exuberant extravagances that made The Name of the Rose so hugely enjoyable." - -Iain Pears, Los Angeles Times Book Review