Pen on Fire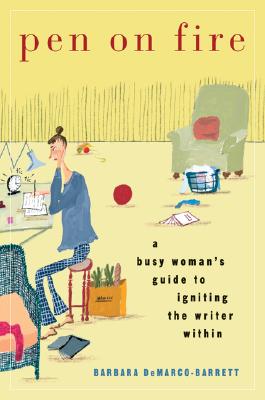 Pen on Fire
A Busy Woman's Guide to Igniting the Writer Within
Harvest Books, Paperback, 9780156029780, 262pp.
Publication Date: October 2004
* Individual store prices may vary.
Buy Now
or
Shop Local
Enter your zip code below to purchase from an indie close to you.
Description
In her fifteen years of teaching, Barbara DeMarco-Barrett has found that the biggest stumbling block for aspiring writers (especially women) is not fear of the blank page but frustration with the lack of time. What woman doesn't have too much to do and too little time? Finding an hour free of work, children, or obligations can seem impossible.
But anyone can find fifteen minutes, whether you're sitting in traffic, waiting at a child's soccer practice, or watching the coffee drip. DeMarco-Barrett has created a practical, inspirational guide for fitting serious writing into those stolen moments. She offers writing exercises and techniques for generating ideas, as well as pragmatic advice from the well-known authors who appear on her radio show. With fifteen minutes a day, she can help you to ignite your pen and become the writer you have always wanted to be.

About the Author
Barbara DeMarco-Barrett teachescreative writing at University of California-Irvine and hosts the weekly radio show, "Writers on Writing," on NPR affiliate KUCI.She is a frequent contributor to the Los Angeles Times, The Writer, and Poets & Writers, among other publications, and iseditor of The ASJA Monthly, the official publication of the American Society of Journalists and Authors. She lives in Southern California.
Praise For Pen on Fire…
ADVANCE PRAISE FOR PEN ON FIRE
"Pen on Fire is a gym for writers with Barbara DeMarco-Barrett, who teaches, coaxes, and cheers us on." -Diane Leslie, author of Fleur de Leigh's Life of Crime

"A wonderful mix of the practical and the inspirational." -T. Jefferson Parker, author of Cold Pursuit



"Barbara DeMarco-Barrett''s wonderful, practical guide teaches us to value our craft and, thus, ourselves."

"With an encouraging attitude and inspirational approach…everything writer-wannabes want to know, from finding an agent to finding your voice."

"Soars with inspiration and crackles with joy. It''s a blessing for anyone going crazy trying to find time to write."

"PEN ON FIRE is a fitness gym for writers with Barbara DeMarco-Barrett, who teaches, coaxes, and cheers us on."

"The simple tips and easy lessons herein will provide inspiration to beginning and seasoned writers alike. I recommend it highly."

"PEN ON FIRE is a beginning writer''s dream cocktail of fortitude: equal parts compassion, inspiration, and fabulous limbering exercises. "

DeMarco-Barrett knows the writerly type. Her book perfectly combines inspiration and practical advice.

"A creative dynamo, a true writer''s writer."

"What a little gem! Gulp down this cocktail of compassion, inspiration, and wizard limbering-up exercises."

"PEN ON FIRE has got a wonderful mix of the practical and the inspirational."