The Places in Between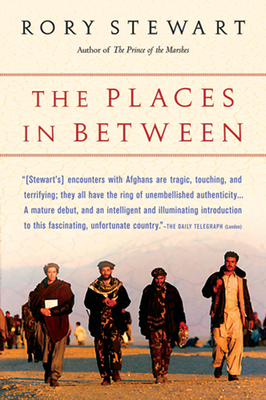 The Places in Between
Harvest Books, Paperback, 9780156031561, 299pp.
Publication Date: May 8, 2006
* Individual store prices may vary.
Buy at Local Store
Enter your zip code below to purchase from an indie close to you.
or
Buy Here
Description
In January 2002 Rory Stewart walked across Afghanistan-surviving by his wits, his knowledge of Persian dialects and Muslim customs, and the kindness of strangers. By day he passed through mountains covered in nine feet of snow, hamlets burned and emptied by the Taliban, and communities thriving amid the remains of medieval civilizations. By night he slept on villagers' floors, shared their meals, and listened to their stories of the recent and ancient past. Along the way Stewart met heroes and rogues, tribal elders and teenage soldiers, Taliban commanders and foreign-aid workers. He was also adopted by an unexpected companion-a retired fighting mastiff he named Babur in honor of Afghanistan's first Mughal emperor, in whose footsteps the pair was following.

Through these encounters-by turns touching, con-founding, surprising, and funny-Stewart makes tangible the forces of tradition, ideology, and allegiance that shape life in the map's countless places in between.
About the Author
RORY STEWART is the best-selling author of The Places in Between andThe Prince of the Marshes. A former director of the Carr Centre for Human Rights Policy andRyan Professor of Human Rights atHarvard's Kennedy School of Government, he was awarded the Order of the British Empire for services in Iraq.Heis the Conservative Member of Parliament for Penrith and The Border, a constituency in Northern Cumbria, where he lives with his wife.
Praise For The Places in Between…
UK PRAISE FOR THE PLACES IN BETWEEN
"[Stewart's] encounters with Afghans are tragic, touching and terrifying; they all have the ring of unembellished authenticity . . . A mature debut, and an intelligent and illuminating introduction to this fascinating, unfortunate country."
-THE DAILY TELEGRAPH


"A splendid tale that is by turns wryly humorous, intensely observant, and humanely unsentimental."

"Stupendous...an instant travel classic."

"Remarkable...Gripping account of a courageous journey, observed with a scholar''s eye and a humanitarian''s heart."

"Engaging and eminently readable...A masterly job."

"Sets a new standard for cool nerve and hot determination...Sublimely written."

"A flat-out masterpiece...In very nearly every sense, too good to be true."

"Stunning...Contribute[s] greatly not only to our reading pleasure, but to our understanding of Afghanistan."