All Art Is Propaganda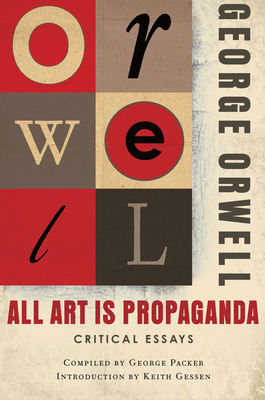 All Art Is Propaganda
Critical Essays
Mariner Books, Paperback, 9780156033077, 374pp.
Publication Date: October 14, 2009
* Individual store prices may vary.
Buy Now
or
Shop Local
Enter your zip code below to purchase from an indie close to you.
Description
As a critic, George Orwell cast a wide net. Equally at home discussing Charles Dickens and Charlie Chaplin, he moved back and forth across the porous borders between essay and journalism, high art and low. A frequent commentator on literature, language, film, and drama throughout his career, Orwell turned increasingly to the critical essay in the 1940s, when his most important experiences were behind him and some of his most incisive writing lay ahead.
"All Art Is Propaganda "follows Orwell as he demonstrates in piece after piece how intent analysis of a work or body of work gives rise to trenchant aesthetic and philosophical commentary.With masterpieces such as "Politics and the English Language" and "Rudyard Kipling" and gems such as "Good Bad Books," here is an unrivaled education in, as George Packer puts it, "how to be interesting, line after line."
About the Author
ERIC ARTHUR BLAIR (19031950), better known by his pen name George Orwell, was an English author and journalist whose best-known works include the dystopian novel 1984 and the satirical novella Animal Farm. He is consistently ranked among the best English writers of the 20th century, and his writing has had a huge, lasting influence on contemporary culture. Several of his coined words have since entered the English language, and the word "Orwellian" is now used to describe totalitarian or authoritarian social practices.

Keith Gessen was born in Russia and educated at Harvard. He is a founding editor of n+1 and has written about literature and culture for Dissent, The Nation, The New Yorker, and the New York Review of Books. He is the author of the novel All the Sad Young Literary Men.

GEORGE PACKER is a staff writer for The New Yorker and author of The Assassin's Gate: America in Iraq and other works. He lives in Brooklyn.