Making Civil Rights Law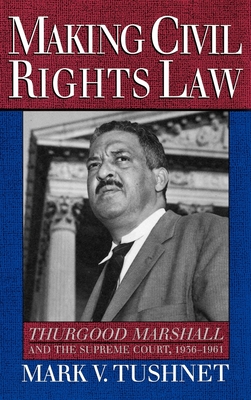 Making Civil Rights Law
Thurgood Marshall and the Supreme Court, 1936-1961
Oxford University Press, USA, Hardcover, 9780195084122, 416pp.
Publication Date: June 28, 2001
* Individual store prices may vary.
Buy at Local Store
Enter your zip code below to purchase from an indie close to you.
or
Buy Here
Description
From the 1930s to the early 1960s civil rights law was made primarily through constitutional litigation. Before Rosa Parks could ignite a Montgomery Bus Boycott, the Supreme Court had to strike down the Alabama law which made segregated bus service required by law; before Martin Luther King could march on Selma to register voters, the Supreme Court had to find unconstitutional the Southern Democratic Party's exclusion of African-Americans; and before the March on Washington and the Civil Rights Act of 1964, the Supreme Court had to strike down the laws allowing for the segregation of public graduate schools, colleges, high schools, and grade schools.
Making Civil Rights Law provides a chronological narrative history of the legal struggle, led by Thurgood Marshall and the NAACP Legal Defense Fund, that preceded the political battles for civil rights. Drawing on interviews with Thurgood Marshall and other NAACP lawyers, as well as new information about the private deliberations of the Supreme Court, Tushnet tells the dramatic story of how the NAACP Legal Defense Fund led the Court to use the Constitution as an instrument of liberty and justice for all African-Americans. He also offers new insights into how the justices argued among themselves about the historic changes they were to make in American society.
Making Civil Rights Law provides an overall picture of the forces involved in civil rights litigation, bringing clarity to the legal reasoning that animated this "Constitutional revolution," and showing how the slow development of doctrine and precedent reflected the overall legal strategy of Thurgood Marshall and the NAACP.

About the Author
Mark Tushnet is the William Nelson Cromwell Professor of Law at Harvard Law School. He is the author of Slave Law in the American South: State v. Mann in History and Literature.