For Cause and Comrades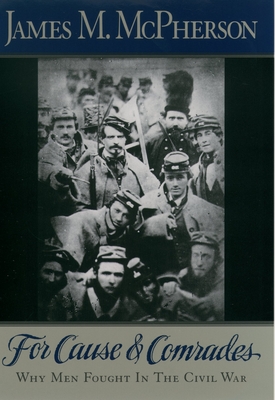 For Cause and Comrades
Why Men Fought in the Civil War
Oxford University Press, USA, Paperback, 9780195124996, 237pp.
Publication Date: November 5, 1998
* Individual store prices may vary.
Buy at Local Store
Enter your zip code below to purchase from an indie close to you.
or
Buy Here
Description
General John A. Wickham, commander of the famous 101st Airborne Division in the 1970s and subsequently Army Chief of Staff, once visited Antietam battlefield. Gazing at Bloody Lane where, in 1862, several Union assaults were brutally repulsed before they finally broke through, he marveled, "You couldn't get American soldiers today to make an attack like that." Why did those men risk certain death, over and over again, through countless bloody battles and four long, awful years ? Why did the conventional wisdom -- that soldiers become increasingly cynical and disillusioned as war progresses -- not hold true in the Civil War? It is to this question--why did they fight -- that James McPherson, America's preeminent Civil War historian, now turns his attention. He shows that, contrary to what many scholars believe, the soldiers of the Civil War remained powerfully convinced of the ideals for which they fought throughout the conflict. Motivated by duty and honor, and often by religious faith, these men wrote frequently of their firm belief in the cause for which they fought: the principles of liberty, freedom, justice, and patriotism. Soldiers on both sides harkened back to the Founding Fathers, and the ideals of the American Revolution. They fought to defend their country, either the Union--"the best Government ever made"--or the Confederate states, where their very homes and families were under siege. And they fought to defend their honor and manhood. "I should not lik to go home with the name of a couhard," one Massachusetts private wrote, and another private from Ohio said, "My wife would sooner hear of my death than my disgrace." Even after three years of bloody battles, more than half of the Union soldiers reenlisted voluntarily. "While duty calls me here and my country demands my services I should be willing to make the sacrifice," one man wrote to his protesting parents. And another soldier said simply, "I still love my country.
About the Author
James M. McPherson is a distinguished Civil War historian. He won the 1989 Pulitzer Prize for his book BATTLE CRY OF FREEDOM: THE CIVIL WAR ERA. His other publications include MARCHING TOWARD FREEDOM: BLACKS IN THE CIVIL WAR, Second Edition (1991); ORDEAL BY FIRE: THE CIVIL WAR AND RECONSTRUCTION, Third Edition (2001); ABRAHAM LINCOLN AND THE SECOND AMERICAN REVOLUTION (1991); FOR CAUSE AND COMRADES: WHY MEN FOUGHT IN THE CIVIL WAR (1997), which won the Lincoln Prize in 1998; CROSSROADS OF FREEDOM: ANTIETAM (2002); HALLOWED GROUND: A WALK AT GETTYSBURG (2003); and TRIED BY WAR: ABRAHAM LINCOLN AS COMMANDER IN CHIEF (2008), which won the Lincoln Prize for 2009. Professor McPherson served as president of the American Historical Association (2003-2004).