The Devil's Dictionary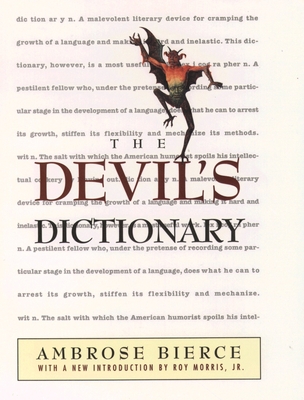 The Devil's Dictionary
Oxford University Press, USA, Paperback, 9780195126273, 256pp.
Publication Date: January 1, 1999
* Individual store prices may vary.
Buy at Local Store
Enter your zip code below to purchase from an indie close to you.
or
Buy Here
Description
History, n. an account mostly false, of events mostly unimportant, which are brought about by rulers mostly knaves, and soldiers mostly fools. Marriage, n. The state or condition of a community consisting of a master, a mistress, and two slaves, making in all two. Self-Esteem, n. An erroneous appraisement.
These caustic aphorisms, collected in The Devil's Dictionary, helped earn Ambrose Bierce the epithets Bitter Bierce, the Devil's Lexicographer, and the Wickedest Man in San Francisco. First published as The Cynic's Word Book (1906) and later reissued under its preferred name in 1911, Bierce's notorious collection of barbed definitions forcibly contradicts Samuel Johnson's earlier definition of a lexicographer as a harmless drudge. There was nothing harmless about Ambrose Bierce, and the words he shaped into verbal pitchforks a century ago--with or without the devil's help--can still draw blood today.

About the Author
Ambrose Bierce was an American writer, critic and war veteran. Bierce fought for the Union Army during the American Civil War, eventually rising to the rank of brevet major before resigning from the Army following an 1866 expedition across the Great Plains. Bierce s harrowing experiences during the Civil War, particularly those at the Battle of Shiloh, shaped a writing career that included editorials, novels, short stories and poetry. Among his most famous works are An Occurrence at Owl Creek Bridge, The Boarded Window, Chickamauga, and What I Saw of Shiloh. While on a tour of Civil-War battlefields in 1913, Bierce is believed to have joined Pancho Villa s army before disappearing in the chaos of the Mexican Revolution.

Roy Morris, Jr., is the author of numerous books, including "Lighting Out for the Territory: How Samuel Clemens Headed West and Became Mark Twain".