Lone Star Justice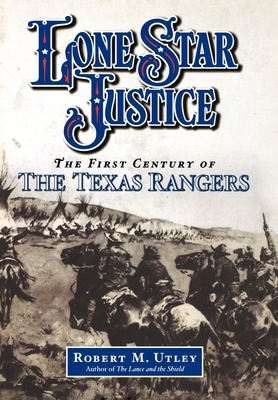 Lone Star Justice
The First Century of the Texas Rangers
Oxford University Press, USA, Hardcover, 9780195127423, 416pp.
Publication Date: May 16, 2002
* Individual store prices may vary.
Buy at Local Store
Enter your zip code below to purchase from an indie close to you.
or
Buy Here
Description
From The Lone Ranger to Lonesome Dove, the Texas Rangers have been celebrated in fact and fiction for their daring exploits in bringing justice to the Old West. In Lone Star Justice, best-selling author Robert M. Utley captures the first hundred years of Ranger history, in a narrative packed with adventures worthy of Zane Grey or Larry McMurtry.
The Rangers began in the 1820s as loose groups of citizen soldiers, banding together to chase Indians and Mexicans on the raw Texas frontier. Utley shows how, under the leadership of men like Jack Hays and Ben McCulloch, these fiercely independent fighters were transformed into a well-trained, cohesive team. Armed with a revolutionary new weapon, Samuel Colt's repeating revolver, they became a deadly fighting force, whether battling Comanches on the plains or storming the city of Monterey in the Mexican-American War. As the Rangers evolved from part-time warriors to full-time lawmen by 1874, they learned to face new dangers, including homicidal feuds, labor strikes, and vigilantes turned mobs. They battled train robbers, cattle thieves and other outlaws--it was Rangers, for example, who captured John Wesley Hardin, the most feared gunman in the West.
Based on exhaustive research in Texas archives, this is the most authoritative history of the Texas Rangers in over half a century. It will stand alongside other classics of Western history by Robert M. Utley--a vivid portrait of the Old West and of the legendary men who kept the law on the lawless frontier.

About the Author
Robert M. Utley, former chief historian of the National Park Service, is a founding member and former president of the Western History Association, and the author of twelve acclaimed books on Western history, including The Lance and the Shield: The Life of Sitting Bull and biographies of Billy the Kid and George Armstrong Custer.