The Sociological Imagination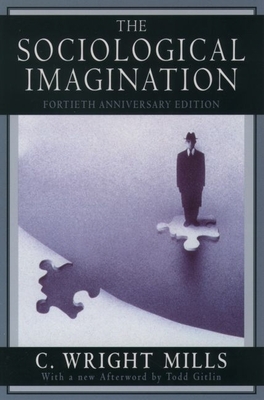 The Sociological Imagination
Oxford University Press, USA, Paperback, 9780195133738, 256pp.
Publication Date: April 13, 2000
* Individual store prices may vary.
Buy Now
or
Shop Local
Enter your zip code below to purchase from an indie close to you.
Description
C. Wright Mills is best remembered for his highly acclaimed work The Sociological Imagination, in which he set forth his views on how social science should be pursued. Hailed upon publication as a cogent and hard-hitting critique, The Sociological Imagination took issue with the ascendant schools of sociology in the United States, calling for a humanist sociology connecting the social, personal, and historical dimensions of our lives. The sociological imagination Mills calls for is a sociological vision, a way of looking at the world that can see links between the apparently private problems of the individual and important social issues.

About the Author
C. Wright Mills was a maverick social scientist who taught in Copenhagen, London, and Mexico City in addition to the United States. His work has been translated into twenty-three languages. Kathryn Mills works for a book publisher in Boston. Pamela Mills teaches American literature and composition in Rio de Janeiro, Brazil. Dan Wakefield is the author "of New York in the Fifties "(1992), which is the basis for a documentary film, "Island in the City: The World of Spanish Harlem" (1959), and many other works, including the best-selling novels "Going All the Way "(1970) and "Selling Out "(1985).

Todd Gitlin is professor of journalism and sociology and chair of the PhD program in communications at Columbia University. He lectures widely on matters relating to OWS and is the author of fourteen previous books about politics, culture, movements, and media, including the bestselling The Sixties. He was a founding member of Students for a Democratic Society and its third president