The Ghost of Freedom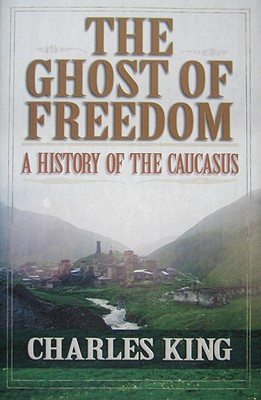 The Ghost of Freedom
A History of the Caucasus
Oxford University Press, USA, Hardcover, 9780195177756, 291pp.
Publication Date: February 1, 2008
* Individual store prices may vary.
Buy Now
or
Shop Local
Enter your zip code below to purchase from an indie close to you.
Description
The Caucasus mountains rise at the intersection of Europe, Russia, and the Middle East. A land of astonishing natural beauty and a dizzying array of ancient cultures, the Caucasus for most of the twentieth century lay inside the Soviet Union, before movements of national liberation created newly independent countries and sparked the devastating war in Chechnya.
Combining riveting storytelling with insightful analysis, The Ghost of Freedom is the first general history of the modern Caucasus, stretching from the beginning of Russian imperial expansion up to the rise of new countries after the Soviet Union's collapse. In evocative and accessible prose, Charles King reveals how tsars, highlanders, revolutionaries, and adventurers have contributed to the fascinating history of this borderland, providing an indispensable guide to the complicated histories, politics, and cultures of this intriguing frontier. Based on new research in multiple languages, the book shows how the struggle for freedom in the mountains, hills, and plains of the Caucasus has been a perennial theme over the last two hundred years--a struggle which has led to liberation as well as to new forms of captivity. The book sheds valuable light on the origins of modern disputes, including the ongoing war in Chechnya, conflicts in Georgia and Azerbaijan, and debates over oil from the Caspian Sea and its impact on world markets.
Ranging from the salons of Russian writers to the circus sideshows of America, from the offices of European diplomats to the villages of Muslim mountaineers, The Ghost of Freedom paints a rich portrait of one of the world's most turbulent and least understood regions.
About the Author
Charles King wrote sixty-nine books, most of them novels based on army life. When he died in 1933, he was credited with seventy years of military service. Don Russell, author of The Lives and Legends of Buffalo Bill (Norman, 1960), has provided an illuminating introduction. He is the editor of The Westerners Brand Book, Chicago, and associate editor of the New Standard Encyclopedia.