Polio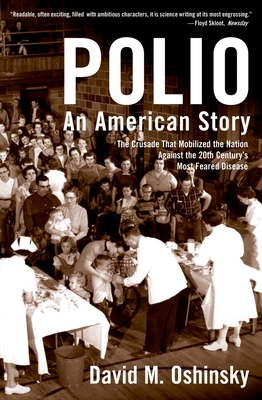 Polio
An American Story
Oxford University Press, USA, Paperback, 9780195307146, 342pp.
Publication Date: August 1, 2006
* Individual store prices may vary.
Buy Now
or
Shop Local
Enter your zip code below to purchase from an indie close to you.
Description
Here David Oshinsky tells the gripping story of the polio terror and of the intense effort to find a cure, from the March of Dimes to the discovery of the Salk and Sabin vaccines--and beyond. Drawing on newly available papers of Jonas Salk, Albert Sabin and other key players, Oshinsky paints a suspenseful portrait of the race for the cure, weaving a dramatic tale centered on the furious rivalry between Salk and Sabin. He also tells the story of Isabel Morgan, perhaps the most talented of all polio researchers, who might have beaten Salk to the prize if she had not retired to raise a family. Oshinsky offers an insightful look at the National Foundation for Infantile Paralysis, which was founded in the 1930s by FDR and Basil O'Connor, it revolutionized fundraising and the perception of disease in America. Oshinsky also shows how the polio experience revolutionized the way in which the government licensed and tested new drugs before allowing them on the market, and the way in which the legal system dealt with manufacturers' liability for unsafe products. Finally, and perhaps most tellingly, Oshinsky reveals that polio was never the raging epidemic portrayed by the media, but in truth a relatively uncommon disease. But in baby-booming America--increasingly suburban, family-oriented, and hygiene- obsessed--the specter of polio, like the specter of the atomic bomb, soon became a cloud of terror over daily life. Both a gripping scientific suspense story and a provocative social and cultural history, Polio opens a fresh window onto postwar America.
About the Author
David M. Oshinsky received his undergraduate degree from Cornell University and his doctorate from Brandeis. His is currently Jack S. Blanton Chair of History at the University of Texas at Austin. Prior to that he taught for 26 years at Rutgers University, where he held the Board of Governors Chair as well as chairman of the History Department. Oshinsky is the author of five books, including A CONSPIRACY SO IMMENSE: THE WORLD OF JOE MCCARTHY (1983), which was voted one of the year's "best books" by the "New York Sunday Times Book Review," and won the Hardeman Prize for the best work about the U.S. Congress. His book, WORSE THAN SLAVERY: PARCHMAN FARM AND THE ORDEAL OF JIM CROW JUSTICE (1996), won both the Robert Kennedy Book Award for the year's most distinguished contribution to the field of human rights and the American Bar Association's Scribes Award for distinguished legal writing. Oshinsky's latest book is POLIO: AN AMERICAN STORY (2005).