Sex and the Soul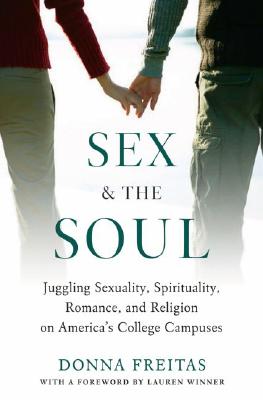 Sex and the Soul
Juggling Sexuality, Spirituality, Romance, and Religion on America's College Campuses
Oxford University Press, USA, Hardcover, 9780195311655, 299pp.
Publication Date: April 11, 2008
* Individual store prices may vary.
Buy at Local Store
Enter your zip code below to purchase from an indie close to you.
or
Not Currently Available for Direct Purchase
Description
Based on dozens of face-to-face interviews, Sex and the Soul explores the sexual and spiritual lives of today's college students. Donna Freitas crisscrossed the country, visiting a range of America's colleges and universities--from public to private, Catholic to evangelical--to find out what students had to say about these highly personal subjects. Their stories will not only engage readers, but, in many cases, move them with the painful struggles these candid young women and men face. Indeed, the book uncovers aspects of college life that may unsettle some readers, especially parents. Many campuses, for instance, are dominated by the pervasiveness of hook-up culture. Moreover, many students see little connection between sex and religion, even as they seek one between sex and spirituality. Indeed, these observations hold true even at Catholic schools. Only at evangelical colleges is religion an important factor when deciding whether or not to engage in sex. But Freitas's research also reveals that, even at secular schools, students are not comfortable with a culture of casual sex, and that they do want spirituality, at least, if not also religion, to speak about what they should do and who they should try to be--not just what they should avoid doing.
Sex and the Soul will offer readers the chance to hear college students speaking honestly about extremely sensitive topics, in a book that will be of great interest to students, parents, clergy, teachers, and anyone who wants to know what's happening on today's college campuses.
Named one of the Best Religion Books of 2008 by Publishers Weekly
"Fascinating, disturbing...engaging...persuasive.... Freitas's work chronicles a poignant spiritual loss that students themselves articulate and mourn."
--Publishers Weekly
"Candid, disturbing, yet ultimately hopeful....Throughout this beautifully written book, Freitas presents students' feelings and experiences in an unflinching yet compassionate way. You care about these young people and their struggles. This book is a great service to students, parents, and those at colleges and universities who want to prepare young adults not just for the workplace but for healthy and fulfilling lives."
--Christian Science Monitor.
About the Author
Donna Freitas is an author of books for both teens and adults. Her nonfiction books for adults include, most recently, "Sex and the Soul: Juggling Sexuality, Spirituality, Romance and Religion on America s College Campuses "(Oxford), based on a national study about the influence of sexuality and romantic relationships on the spiritual identities of America s college students. She is also a devoted fan of the celebrated British children s author Philip Pullman, and her book about the religious and ethical dimensions of his award-winning trilogy "Killing the Imposter God: Philip Pullman s Spiritual Imagination in His Dark Materials" (Jossey-Bass/Wiley) hit the bookshelves in the middle of a major, national controversy about the release of the trilogy s first movie installment.
Much of her writing, teaching, and lecturing centers around struggles of belonging and alienation with regard to faith, particularly among young adults and especially with regard to young women. She loves to ask Big Questions (Why "are" we here anyway?) and delights in discovering the many possible forums in which to dabble with the stuff of faith, religion, spirituality, and gender.
A regular contributor to "The Washington Post/Newsweek" s online panel On Faith, the religion webzine "Beliefnet", and "Publishers Weekly", she has also written for "The Wall Street Journal", "The Washington Post", "Christian Century", and "School Library Journal", and she has appeared as a commentator on NPR s "All Things Considered". Her books also include "Becoming a Goddess of Inner Poise: Spirituality for the Bridget Jones in All of Us" and "Save the Date: A Spirituality of Dating, Love, Dinner & the Divine".
Born in Rhode Island, Donna received her B.A. in philosophy and Spanish from Georgetown University and her Ph.D. in religion from Catholic University. She has been a professor at Boston University and at Hofstra in New York. She is currently splitting her time between Barcelona and New York and writing full time. Donna describes herself as an ardent feminist, a Catholic despite it all, an intense intellectual, and a fashion devotee all rolled into one.
Lauren F. Winner is an ordained Episcopal priest and the author of numerous books, including Girl Meets God, Real Sex, Mudhouse Sabbath, and Still, which won the Christianity Today Book Award in Spirituality. She teaches at Duke Divinity School in Durham, North Carolina. Her articles have appeared in the New York Times Book Review, The Washington Post, The Wall Street Journal, Books & Culture, and other periodicals.