Europe's Angry Muslims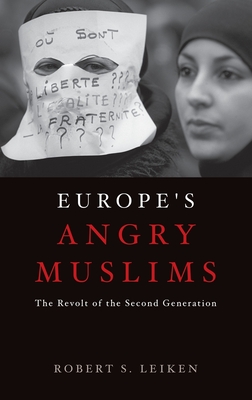 Europe's Angry Muslims
The Revolt of the Second Generation
Oxford University Press, USA, Hardcover, 9780195328974, 354pp.
Publication Date: January 4, 2012
* Individual store prices may vary.
Buy at Local Store
Enter your zip code below to purchase from an indie close to you.
or
Not Currently Available for Direct Purchase
Description
Europe's Angry Muslims traces the routes, expectations and destinies of immigrant parents and the plight of their children, transporting both the general reader and specialist from immigrants' ancestral villages to their new enclaves in Europe. It guides readers through Islamic nomenclature, chronicles the motive force of the Islamist narrative, offers them lively portraits of jihadists, and takes them inside radical mosques and into the minds of suicide bombers. Through interviews of former radicals and security agents and examination of the sermons of radical imams, Robert Leiken presents an unsentimental yet compassionate account of Islam's growing presence in the West. His nuanced and authoritative analysis-historical, sociological, theological and anthropological-warns that conflating rioters and Islamists, folk and fundamentalist Muslims, pietists and jihadis, and immigrants and their children is the method of strategic incoherence.
Now with a new preface analyzing the rise of ISIL, this book offers a cogent overview of how global terror and its responding foreign policy interacts with the lives of Muslim, first-and second generation immigrants in Europe.

About the Author
Robert S. Leiken is the Director of the Immigration and National Security Program at The Nixon Center, as well as a non-resident Senior Fellow at the Brookings Institution. His commentaries have appeared in the major American newspapers and his reports and essays in Foreign Affairs, The New York
Review of Books, The New Republic, The Weekly Standard, Foreign Policy, The Times Literary Supplement, Commentary, Washington Post Outlook, The Los Angeles Sunday Times and The Political Science Quarterly.