Baader-Meinhof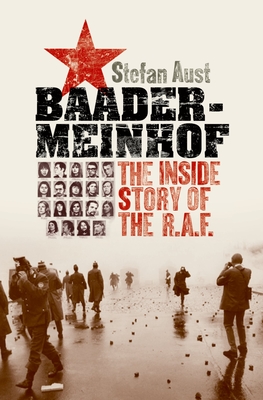 Baader-Meinhof
The Inside Story of the RAF
Oxford University Press, USA, Hardcover, 9780195372755, 457pp.
Publication Date: April 10, 2009
* Individual store prices may vary.
Buy Now
or
Shop Local
Enter your zip code below to purchase from an indie close to you.
Description
The Baader-Meinhof Group--later known as the Red Army Faction (RAF)--was a violent urban guerilla group which terrorized Germany in the 1970s and '80s, killing 47 people, wounding 93, taking 162 hostages, and robbing 35 banks--all in an attempt to bring revolution to the Federal Republic.
Stefan Aust's masterful history of the Group presents the definitive account, capturing a highly complex story both accurately and colorfully. Much new information has surfaced since the mass suicide of the Groups' leaders in the 1980s. Some RAF members have come forward to testify in new investigations and formerly classified Stasi documents have been made public since the fall of the Berlin Wall, all contributing to a fuller picture of the RAF and the events surrounding their demise. Aust presents the complete history of the RAF, from the creation in 1970 to the breakup in 1998, incorporating all of the new information. For instance, there is growing evidence that the German secret service eavesdropped on Baader, Meinhof, and the other RAF members imprisoned in Stammheim and that they knew that the terrorists planned a mass suicide, but did nothing to prevent it. Also, there is new information about the role of the RAF lawyers (among them Otto Schily who later was Minister of the Interior in Gerhard Schroder's cabinet), and the roles of the different RAF members and the rivalry between them. The volume will also contain numerous photos.
Terrorism today is never far from most people's thoughts. Baader-Meinhof offers a gripping account of one of the most violent terrorist groups of the late twentieth century, in a compelling look at what they did, why they did it, and how they were brought to justice.

About the Author


Anthea Bell is the recipient of the Schlegel Tieck Prize for translation from German, the Independent Foreign Fiction Prize, and the Helen and Kurt Wolff Prize in 2002 for the translation of W. G. Sebald s Austerlitz, and the 2003 Austrian State Prize for Literary Translation. She lives in Cambridge, England.