Buddhist Warfare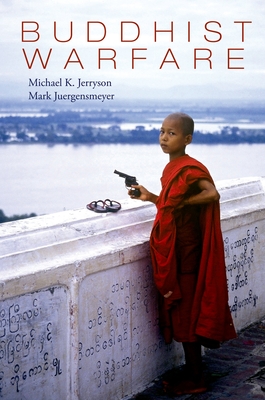 Buddhist Warfare
Oxford University Press, USA, Paperback, 9780195394849, 272pp.
Publication Date: January 1, 2010
* Individual store prices may vary.
Buy at Local Store
Enter your zip code below to purchase from an indie close to you.
or
Buy Here
Description
Though traditionally regarded as a peaceful religion, Buddhism has a dark side. On multiple occasions over the past fifteen centuries, Buddhist leaders have sanctioned violence, and even war. The eight essays in this book focus on a variety of Buddhist traditions, from antiquity to the present, and show that Buddhist organizations have used religious images and rhetoric to support military conquest throughout history.
Buddhist soldiers in sixth century China were given the illustrious status of Bodhisattva after killing their adversaries. In seventeenth century Tibet, the Fifth Dalai Lama endorsed a Mongol ruler's killing of his rivals. And in modern-day Thailand, Buddhist soldiers carry out their duties undercover, as fully ordained monks armed with guns.
Buddhist Warfare demonstrates that the discourse on religion and violence, usually applied to Judaism, Islam, and Christianity, can no longer exclude Buddhist traditions. The book examines Buddhist military action in Tibet, China, Korea, Japan, Mongolia, Sri Lanka, and Thailand, and shows that even the most unlikely and allegedly pacifist religious traditions are susceptible to the violent tendencies of man.

About the Author
Mark Juergensmeyer (Ph.D., University of California, Berkeley, 1974) is Director of the Orfalea Center for Global and International Studies and Professor of Sociology and Religious Studies at the University of California, Santa Barbara. He is an expert on religious violence, conflict resolution and South Asian religion and politics, and has published more than 200 articles and a dozen books. His Terror in the Mind of God: The Global Rise of Religious Violence is based on interviews with violent religious activists around the world and was listed by the Washington Post and the Los Angeles Times as one of the best nonfiction books of the year. A previous book, The New Cold War? Religious Nationalism Confronts the Secular State covers the rise of religious activism and its confrontation with secular modernity. It was named by the New York Times as one of the notable books of the year. His book on Gandhian conflict resolution has recently been reprinted as Gandhi s Way and was selected as Community Book of the Year at the University of California, Davis. His most recent work is an edited volume, Global Religions, and he is working on a book on religion and war, and an edited volume on religion in global civil society. Juergensmeyer has received research fellowships from the Wilson Center, Harry Frank Guggenheim Foundation, U.S. Institute of Peace, and American Council of Learned Societies. He is the 2003 recipient of the prestigious Grawemeyer Award for contributions to the study of religion and is the 2004 recipient of the Silver Award of the Queen Sofia Center for the Study of Violence in Spain. Since the events of September 11, 2001, he has been a frequent commentator on televised news media.