The Obama Victory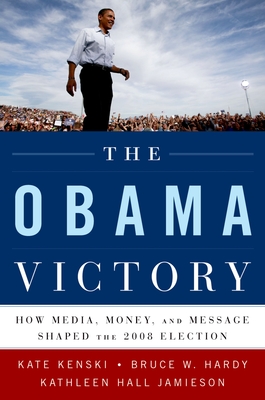 The Obama Victory
How Media, Money, and Message Shaped the 2008 Election
Oxford University Press, USA, Paperback, 9780195399561, 378pp.
Publication Date: July 1, 2010
* Individual store prices may vary.
Buy Now
or
Shop Local
Enter your zip code below to purchase from an indie close to you.
Description
Barack Obama's stunning victory in the 2008 presidential election will go down as one of the more pivotal in American history. Given America's legacy of racism, how could a relatively untested first-term senator with an African father defeat some of the giants of American politics?
In The Obama Victory, Kate Kenski, Bruce Hardy, and Kathleen Hall Jamieson draw upon the best voter data available, The National Annenberg Election Survey, as well as interviews with key advisors to each campaign, to illuminate how media, money, and messages shaped the 2008 election. They explain how both sides worked the media to reinforce or combat images of McCain as too old and Obama as not ready; how Obama used a very effective rough-and-tumble radio and cable campaign that was largely unnoticed by the mainstream media; how the Vice Presidential nominees impacted the campaign; how McCain's age and Obama's race affected the final vote, and much more.
Briskly written and filled with surprising insights, The Obama Victory goes beyond opinion to offer the most authoritative account available of precisely how and why Obama won the presidency.
About the Author




Kathleen Hall Jamieson is the Elizabeth Ware Packard Professor of Communication at the Annenberg School for Communication and Walter and Leonore Annenberg Director of the Annenberg Public Policy Center at the University of Pennsylvania. An expert on political campaigns, Dr. Jamieson has received numerous teaching and service awards including the Christian R. and Mary F. Lindback Award. She is the recipient of many fellowships and grants including support from The Pew Charitable Trusts, The Ford Foundation, The Robert Wood Johnson Foundation, The MacArthur Foundation, and The Carnegie Corporation of New York. Dr. Jamieson is a Fellow of the American Academy of Arts and Sciences and a member of the American Philosophical Society. She is the author, co-author or editor of 13 books including: THE 2000 PRESIDENTIAL ELECTION AND THE FOUNDATIONS OF PARTY POLITICS; THE PRESS EFFECT; EVERYTHING YOU THINK YOU KNOW ABOUT POLITICS...AND WHY YOU'RE WRONG; DIRTY POLITICS: DECEPTION, DISTRACTION AND DEMOCRACY; BEYOND THE DOUBLE BIND: WOMEN AND LEADERSHIP; and SPIRAL OF CYNICISM: PRESS AND PUBLIC GOOD. She received the Speech Communication Association's Golden Anniversary Book Award for PACKAGING THE PRESIDENCY and the Winans-Wichelns Book Award for ELOQUENCE IN AN ELECTRONIC AGE.