Ulysses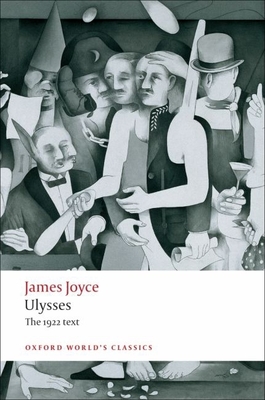 Ulysses
Oxford University Press, USA, Paperback, 9780199535675, 980pp.
Publication Date: September 1, 2011
* Individual store prices may vary.
Buy Now
or
Shop Local
Enter your zip code below to purchase from an indie close to you.
Description
One of the greatest novels of the twentieth century, Ulysses has had a profound influence on modern fiction. In a series of episodes covering the course of a single day, June 16, 1904, the novel traces the movements of Leopold Bloom and Stephen Dedalus through the streets of Dublin. Each chapter has its own remarkably innovative literary style, and the book is one of the great, extended tours de force of stream-of-consciousness narration. It is an essential stop in any tour of English literature.
This marvelous edition reproduces in facsimile the original 1922 text. Today critical interest centers on the authority of the text, and this edition republishes for the first time, without interference, the original 1922 text. Equally important, Jeri Johnson's editorial material is acknowledged to be by far the best there is. Her textual apparatus--notes, introduction, stemma of published versions--is unsurpassed. Johnson strikes the perfect balance between what readers need to know in her notes and introduction. Her fantastic explanatory notes begin by giving the time and location of each episode and a description of the correspondence with the episode in Homer being paralleled. In addition, the introduction is a model of scholarship and lucidity, leading the first-time reader through the intricacies of the text.
This edition also includes a full list of errata, a Composition and Publication History, an up-to-date bibliography, a chronology of Joyce's lie, a map of Dublin of the period, appendices reproducing Gilbert and Linati schema (i.e. the tables that set out the symbolic significance of each episode in the novel by title, hour of the day, place of the action), and much more. It is the perfect introduction to the crowning work of modernist literature.

About the Author
James Joyce, the twentieth century's most influential novelist, was born in Dublin on February 2, 1882. The oldest of ten children, he grew up in a family that went from prosperity to penury because of his father's wastrel behavior. After receiving a rigorous Jesuit education, twenty-year-old Joyce renounced his Catholicism and left Dublin in 1902 to spend most of his life as a writer in exile in Paris, Trieste, Rome, and Zurich. On one trip back to Ireland, he fell in love with the now famous Nora Barnacle on June 16, the day he later chose as "Bloomsday" in his novel "Ulysses. "Nara was an uneducated Galway girl who became his lifelong companion an the mother of his two children. In debt and drinking heavily, Joyce lived for thirty-six years on the Continent, supporting himself first by teaching jobs, then trough the patronage of Mrs. Harold McCormick (Edith Rockerfeller) and the English feminist and editor Harriet Shaw Weaver. His writings include "Chamber music "(1907), "Dubliners "(1914), "A Portrait of the Artist as a Young Man "(1916), "Exiles "(1918), "Ulysses "(1922), "Poems Penyeach "(1927), "Finnegans Wake "(1939), and an early draft of "A Portrait of a Young Man, Stephan Hero "(1944). "Ulysses "required seven years to complete, and his masterpiece, "Finnegans Wake, "took seventeen. Both works revolutionized the form, structure, and content of the novel. Joyce died in Zurich in 1941.

Jeri Johnson is a fellow in English at Exeter College, Oxford.