The Kalevala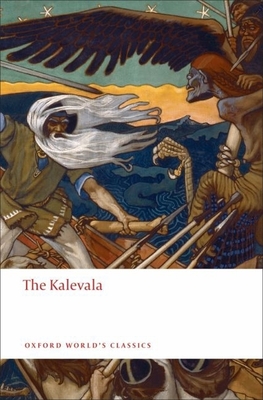 The Kalevala
An Epic Poem After Oral Tradition
Oxford University Press, USA, Paperback, 9780199538867, 679pp.
Publication Date: April 1, 2009
* Individual store prices may vary.
Buy at Local Store
Enter your zip code below to purchase from an indie close to you.
or
Buy Here
Description
The Kalevala is the great Finnish epic, which like the Iliad and the Odyssey, grew out of a rich oral tradition with prehistoric roots. During the first millennium of our era, speakers of Uralic languages (those outside the Indo-European group) who had settled in the Baltic region of Karelia, that straddles the border of eastern Finland and north-west Russia, developed an oral poetry that was to last into the nineteenth century. This poetry provided the basis of the Kalevala. It was assembled in the 1840s by the Finnish scholar Elias Lonnrot, who took dictation' from the performance of a folk singer, in much the same way as our great collections from the past, from Homeric poems to medieval songs and epics, have probably been set down. Published in 1849, it played a central role in the march towards Finnish independence and inspired some of Sibelius's greatest works. This new and exciting translation by poet Keith Bosley, prize-winning translator of the anthology Finnish Folk Poetry: Epic, is the first truly to combine liveliness with accuracy in a way which reflects the richness of the original.
About the Series: For over 100 years Oxford World's Classics has made available the broadest spectrum of literature from around the globe. Each affordable volume reflects Oxford's commitment to scholarship, providing the most accurate text plus a wealth of other valuable features, including expert introductions by leading authorities, voluminous notes to clarify the text, up-to-date bibliographies for further study, and much more.

About the Author
Elias Lonnrot (1802-1884) was a Finnish philologist and collector of traditional Finnish oral poetry. He is best known for composing the Kalevala, the Finnish national epic compiled from national folklore. His true passion lay in his native Finnish language. He began writing about the early Finnish language in 1827 and began collecting folk tales from the rural people about that time. Lonnrot went on extended leaves of absence from his doctor's office; he toured the countryside of Finland, Sapmi (Lapland), and nearby portions of Russian Karelia to support his collecting efforts. This led to a series of books: Kantele, 1829-1831 (the kantele is a Finnish traditional instrument); Kalevala, 1835-1836 (possibly Land of Heroes; better known as the "old" Kalevala); Kanteletar, 1840 (possibly Kantele Daughter); Sananlaskuja, 1842 (Proverbs); an expanded second edition of Kalevala, 1849 (the "new" Kalevala); and Finsk-Svenskt lexikon, 1866-1880 (Finnish-Swedish Dictionary). Lonnrot was recognised for his part in preserving Finland's oral traditions by appointment to the Chair of Finnish Literature at the University of Helsinki. He died on 19 March 1884 in Sammatti, in the province of Uusimaa.