Franklin Delano Roosevelt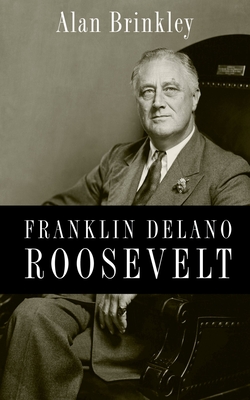 Franklin Delano Roosevelt
Oxford University Press, USA, Hardcover, 9780199732029, 116pp.
Publication Date: December 2009
* Individual store prices may vary.
Buy Now
or
Shop Local
Enter your zip code below to purchase from an indie close to you.
Description
"No president since the founders has done more to shape the character of American government," notes Alan Brinkley in this magnificent biography of America's thirty-second president. "And no president since Lincoln has served through darker or more difficult times. Roosevelt thrived in crisis. It brought out his greatness, and his guile. It triggered his almost uncanny ability to communicate effectively with people of all kinds. And at times, it helped him excoriate his enemies, and to revel in doing so."
This brilliant, compact biography chronicles Franklin Delano Roosevelt's rise from a childhood of privilege to a presidency that forever changed the face of international diplomacy, the American party system, and the government's role in global and domestic policy. Brinkley, the National Book Award-winning New Deal historian, provides a clear, concise introduction to Roosevelt's sphinx-like character and remarkable achievements. In a vivid narrative packed with telling anecdotes, the book moves swiftly from Roosevelt's youth in upstate New York--characterized by an aristocratic lifestyle of trips to Europe and private tutoring--to his schooling at Harvard, his brief law career, and his initial entry into politics. From there, Brinkley chronicles Roosevelt's rise to the presidency, a position in which FDR remained until death, through an unparalleled three-plus terms in office. Throughout the book, Brinkley elegantly blends FDR's personal life with his professional one, providing a lens into the President's struggles with polio and his somewhat distant relationship with the first lady.
Franklin Delano Roosevelt led the United States through the worst economic crisis in the nation's history and through the greatest and most terrible war ever recorded. His extraordinary legacy remains alive in our own troubled new century as a reminder of what bravery and strong leadership can accomplish.
About the Author
In addition to being a best selling textbook author, ALAN BRINKLEY is the Allan Nevins Professor of History and former Provost at Columbia University. He is the author of Voices of Protest: Huey Long, Father Coughlin, and the Great Depression, which won the 1983 National Book Award; The End of Reform: New Deal Liberalism in Recession and War; and Liberalism and its Discontents. His most recent books are "John F. Kennedy: The American Presidents Series: The 35th President, 1961-1963" and "The Publisher: Henry Luce and His American Century" both published recently. He was educated at Princeton and Harvard and taught previously at MIT, Harvard, and the City University Graduate School before joining the Columbia faculty In 1991. In 1998-1999, he was the Harmsworth Professor of American History at Oxford University. He won the Joseph R. Levenson Memorial Teaching Award at Harvard in 1987 and the Great Teacher Award at Columbia in 2003. He is a member of the American Academy of Arts and Sciences, a member of the board of trustees of the National Humanities Center and Oxford University Press, and chairman of the board of trustees of the Century Foundation. He has been a visiting professor at Princeton, the Ecole des Hautes Etudes en Sciences Sociales (Paris), and the University of Torino (Italy). He was the 1998-1999 Harmsworth Professor of American History at Oxford University.
Tuesday, Dec 29, 2009
In historian Alan Brinkley's biography, Franklin Delano Roosevelt, he calls the former president the most important individual of the 20th century. Roosevelt presented national concerns to the public with his Fireside Chats. More at NPR.org