Going to Extremes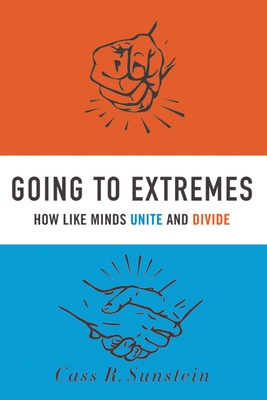 Going to Extremes
How Like Minds Unite and Divide
Oxford University Press, USA, Paperback, 9780199754120, 199pp.
Publication Date: March 4, 2011
* Individual store prices may vary.
Buy Now
or
Shop Local
Enter your zip code below to purchase from an indie close to you.
Description
Why do people become extremists? What makes people become so dismissive of opposing views? Why is political and cultural polarization so pervasive in America? In Going to Extremes, renowned legal scholar and best-selling author Cass R. Sunstein offers startling insights into why and when people gravitate toward extremism. Sunstein marshals a wealth of evidence that shows that when like-minded people gather in groups, they tend to become more extreme in their views than they were before. Thus when liberals group get together to debate climate change, they end up more alarmed about climate change, while conservatives brought together to discuss same-sex unions become more set against same-sex unions. In courtrooms, radio stations, and chatrooms, enclaves of like-minded people are breeding ground for extreme movements. Indeed, Sunstein shows that a good way to create an extremist group, or a cult of any kind, is to separate members from the rest of society, either physically or psychologically. Sunstein's findings help to explain such diverse phenomena as political outrage on the Internet, unanticipated "blockbusters" in the film and music industry, the success of the disability rights movement, ethnic conflict in Iraq and former Yugoslavia, and Islamic terrorism. Providing a wealth of real-world examples--sometimes entertaining, sometimes alarming--Sunstein offers a fresh explanation of why partisanship has become so bitter and debate so rancorous in America and abroad.
About the Author
Cass R. Sunstein is Robert Walmsley University Professor at Harvard University, Massachusetts. From 2009 to 2012, he was Administrator of the White House Office of Information and Regulatory Affairs. He is the founder and director of the Program on Behavioral Economics and Public Policy at Harvard Law School. Mr Sunstein is author of many articles and books, including the best-selling Nudge: Improving Decisions about Health, Wealth, and Happiness (with Richard H. Thaler, 2008), Simpler: The Future of Government (2013), Why Nudge? (2014), Conspiracy Theories and Other Dangerous Ideas (2014), Wiser: Beyond Groupthink to Make Groups Smarter (2014), Valuing Life: Humanizing the Regulatory State (2014), Choosing Not to Choose: Understanding the Value of Choice (2015) and Constitutional Personae: Heroes, Soldiers, Minimalists, and Mutes (2015).