Fateful Lightning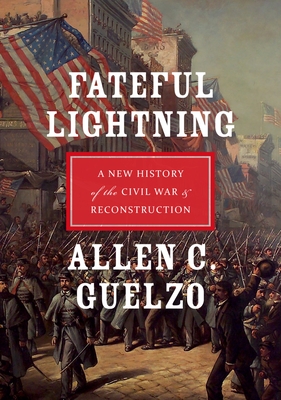 Fateful Lightning
A New History of the Civil War & Reconstruction
Oxford University Press, USA, Paperback, 9780199843282, 576pp.
Publication Date: May 2012
* Individual store prices may vary.
Buy Now
or
Shop Local
Enter your zip code below to purchase from an indie close to you.
Description
The Civil War is the greatest trauma ever experienced by the American nation, a four-year paroxysm of violence that left in its wake more than 600,000 dead, more than 2 million refugees, and the destruction (in modern dollars) of more than $700 billion in property. The war also sparked some of the most heroic moments in American history and enshrined a galaxy of American heroes. Above all, it permanently ended the practice of slavery and proved, in an age of resurgent monarchies, that a liberal democracy could survive the most frightful of challenges.
In Fateful Lightning, two-time Lincoln Prize-winning historian Allen C. Guelzo offers a marvelous portrait of the Civil War and its era, covering not only the major figures and epic battles, but also politics, religion, gender, race, diplomacy, and technology. And unlike other surveys of the Civil War era, it extends the reader's vista to include the postwar Reconstruction period and discusses the modern-day legacy of the Civil War in American literature and popular culture. Guelzo also puts the conflict in a global perspective, underscoring Americans' acute sense of the vulnerability of their republic in a world of monarchies. He examines the strategy, the tactics, and especially the logistics of the Civil War and brings the most recent historical thinking to bear on emancipation, the presidency and the war powers, the blockade and international law, and the role of intellectuals, North and South.
Written by a leading authority on our nation's most searing crisis, Fateful Lightning offers a vivid and original account of an event whose echoes continue with Americans to this day.
About the Author
Allen C. Guelzo is Henry R. Luce Professor of the Civil War Era at Gettysburg College in Gettysburg, Pennsylvania. He was formely Dean of the Templeton Honors College and Grace F. Kea Professor of American History at Eastern University, St. Davids, Pennsylvania. He received his Ph.D.in history from the University of Pennsylvania.