Til Faith Do Us Part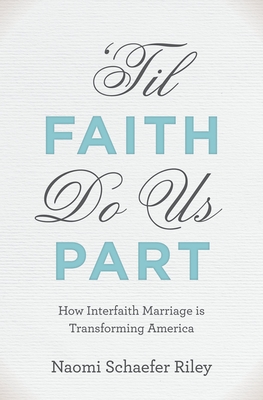 Til Faith Do Us Part
How Interfaith Marriage Is Transforming America
Oxford University Press, USA, Hardcover, 9780199873746, 234pp.
Publication Date: April 2, 2013
* Individual store prices may vary.
Buy at Local Store
Enter your zip code below to purchase from an indie close to you.
or
Buy Here
Description
In the last decade, 45% of all marriages in the U.S. were between people of different faiths. The rapidly growing number of mixed-faith families has become a source of hope, encouraging openness and tolerance among religious communities that historically have been insular and suspicious of other faiths.
Yet as Naomi Schaefer Riley demonstrates in 'Til Faith Do Us Part, what is good for society as a whole often proves difficult for individual families: interfaith couples, Riley shows, are less happy than others and certain combinations of religions are more likely to lead to divorce. Drawing on in-depth interviews with married and once-married couples, clergy, counselors, sociologists, and others, Riley shows that many people enter into interfaith marriages without much consideration of the fundamental spiritual, doctrinal, and practical issues that divide them. Couples tend to marry in their twenties and thirties, a time when religion diminishes in importance, only to return to faith as they grow older and raise children, suffer the loss of a parent, or experience other major life challenges. Riley suggests that a devotion to diversity as well as to a romantic ideal blinds many interfaith couples to potential future problems. Even when they recognize deeply held differences, couples believe that love conquers all. As a result, they fail to ask the necessary questions about how they will reconcile their divergent worldviews-about raising children, celebrating holidays, interacting with extended families, and more. An obsession with tolerance at all costs, Riley argues, has made discussing the problems of interfaith marriage taboo.
'Til Faith Do Us Part is a fascinating exploration of the promise and peril of interfaith marriage today. It will be required reading not only for interfaith couples or anyone considering interfaith marriage, but for all those interested in learning more about this significant, yet understudied phenomenon and the impact it is having on America.

About the Author
Naomi Schaefer Riley is a contributing writer at "The American Enterprise" and a frequent contributor to the "Wall Street Journal", the "Boston Globe", and "National Review". Her articles have also appeared in "The New York Times", " The Los Angeles Times", the "Chronicle of Higher Education", "Weekly Standard", the "New York Post", the "New York Sun", the "New Republic", "Commentary", "Crisis", the "Public Interest", the "New Atlantis", and" First Things". Ms. Riley is also the editor of "In Character", a journal of the John Templeton Foundation, and an adjunct fellow at the Ethics and Public Policy Center.
Since graduating from Harvard magna cum laude in 1998, she has worked as assistant editor of "Commentary", as well as an editorial intern at the "Wall Street Journal" editorial page and "National Review". She has been the recipient of the Phillips Foundation Journalism Fellowship, the Intercollegiate Studies Institute Journalism Fellowship, the Claremont Institute Publius Fellowship, and the Charles G. Koch Fellowship.