The Elements of Style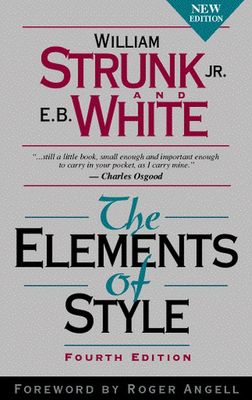 The Elements of Style
Pearson, Hardcover, 9780205313426, 105pp.
Publication Date: September 3, 1999
* Individual store prices may vary.
Buy Now
or
Shop Local
Enter your zip code below to purchase from an indie close to you.
Description
The hardcover version of the most indispensable writing resource
Features a new Glossary of grammatical terms
Includes a new Foreword by Roger Angell
Retains the classic principles of English style
You know the authors' names. You recognize the title. You've probably used this book yourself. This is "The Elements of Style," the classic style manual, now in a fourth edition. The revisions to the new edition are purposely kept minimal in order to retain the book's unique tone, wit, and charm. A new Glossary of the grammatical terms used in the book provides a convenient reference for readers. The discussion of pronoun use is revised to reflect the contemporary concern with sexist language. In addition, there are numerous slight revisions in the book itself which implement this advice. A new Foreword by Roger Angell reminds readers that the advice of Strunk & White is as valuable today as when it was first offered.This book has conveyed the principles of English style to millions of readers. Use the fourth edition of "the little book" to make a big impact with writing.
William Strunk, Jr. first used his own book, The Elements of Style, in 1919 for his English 8 course at Cornell University. The book was published in 1935 by Oliver Strunk.
E. B. White was a student in Professor Strunk's class at Cornell, and used "the little book" for himself. Commissioned by Macmillan to revise Strunk's book, White edited the 1959 and 1972 editions of The Elements of Style.
About the Author
E. B. White, the author of such beloved classics as Charlotte's Web, Stuart Little, and The Trumpet of the Swan, was born in Mount Vernon, New York. He graduated from Cornell University in 1921 and, five or six years later, joined the staff of The New Yorker magazine, then in its infancy. He died on October 1, 1985, and was survived by his son and three grandchildren.
Mr. White's essays have appeared in Harper's magazine, and some of his other books are: One Man's Meat, The Second Tree from the Corner, Letters of E. B. White, Essays of E. B. White, and Poems and Sketches of E. B. White. He won countless awards, including the 1971 National Medal for Literature and the Laura Ingalls Wilder Award, which commended him for making a "substantial and lasting contribution to literature for children."
During his lifetime, many young readers asked Mr. White if his stories were true. In a letter written to be sent to his fans, he answered, "No, they are imaginary tales . . . But real life is only one kind of life there is also the life of the imagination."