Aristotle's Nicomachean Ethics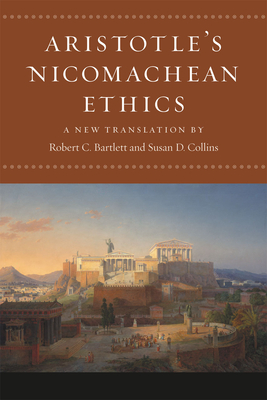 Aristotle's Nicomachean Ethics
University of Chicago Press, Paperback, 9780226026756, 368pp.
Publication Date: April 23, 2012
* Individual store prices may vary.
Buy Now
or
Shop Local
Enter your zip code below to purchase from an indie close to you.
Description
The "Nicomachean Ethics" is one of Aristotle's most widely read and influential works. Ideas central to ethics that happiness is the end of human endeavor, that moral virtue is formed through action and habituation, and that good action requires prudence found their most powerful proponent in the person medieval scholars simply called the Philosopher. Drawing on their intimate knowledge of Aristotle's thought, Robert C. Bartlett and Susan D. Collins have produced here an English-language translation of the "Ethics" that is as remarkably faithful to the original as it is graceful in its rendering.
Aristotle is well known for the precision with which he chooses his words, and in this elegant translation his work has found its ideal match. Bartlett and Collins provide copious notes and a glossary providing context and further explanation for students, as well as an introduction and a substantial interpretive essay that sketch central arguments of the work and the seminal place of Aristotle's "Ethics" in his political philosophy as a whole.
The "Nicomachean Ethics" has engaged the serious interest of readers across centuries and civilizations of peoples ancient, medieval, and modern; pagan, Christian, Muslim, and Jewish and this new edition will take its place as the standard English-language translation.
About the Author
Other works by the renowned classical scholar, translator, and literary critic Francis Fergusson include "The Idea of a Theater: A Study of Ten Plays," "Sallies of the Mind: Essays," "Trope and Allegory: Themes Common to Dante and Shakespeare," and "Dante's Drama of the Mind: A Modern Reading of the "Purgatorio.
Translator and scholar S. H. Butcher served as editor for the Dover Thift Edition of the "Poetics," as well as for the "Orationes, Volume 1" by Demosthenes. Butcher is also the author of "Aristotle's Theory of Poetry and Fine Art,"


Robert C. Bartlett is the Behrakis Professor in Hellenic Political Studies at Boston College.

Susan D. Collins is assistant professor of political science at the University of Houston. Her research focuses on political thought in classical antiquity. She has contributed to American Journal of Political Science and Review of Politics, is co-editor of Action and Contemplation: Studies in the Moral and Political Thought of Aristotle and co-translator of Empire and the Ends of Politics: Plato's 'Menexenus' and Pericles' Funeral Oration.