Attack of the Difficult Poems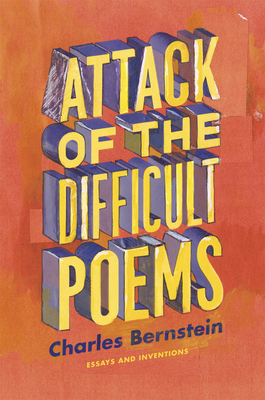 Attack of the Difficult Poems
Essays and Inventions
University of Chicago Press, Paperback, 9780226044774, 296pp.
Publication Date: April 30, 2011
* Individual store prices may vary.
Buy Now
or
Shop Local
Enter your zip code below to purchase from an indie close to you.
Description
Charles Bernstein is our postmodern jester of American poesy, equal part surveyor of democratic vistas and scholar of avant-garde sensibilities. In a career spanning thirty-five years and forty books, he has challenged and provoked us with writing that is decidedly unafraid of the tensions between ordinary and poetic language, and between everyday life and its adversaries. "Attack of the Difficult Poems," his latest collection of essays, gathers some of his most memorably irreverent work while addressing seriously and comprehensively the state of contemporary humanities, the teaching of unconventional forms, fresh approaches to translation, the history of language media, and the connections between poetry and visual art.
Applying an array of essayistic styles, "Attack of the Difficult Poems "ardently engages with the promise of its title. Bernstein introduces his key theme of the difficulty of poems and defends, often in comedic ways, not just difficult poetry but poetry itself. Bernstein never loses his ingenious ability to argue or his consummate attention to detail. Along the way, he offers a wide-ranging critique of literature's place in the academy, taking on the vexed role of innovation and approaching it from the perspective of both teacher and practitioner.
From blues artists to Tin Pan Alley song lyricists to Second Wave modernist poets, "The Attack of the Difficult Poems "sounds both a battle cry and a lament for the task of the language maker and the fate of invention.
About the Author
Charles Bernstein (born April 4, 1950) is an American poet, theorist, editor, and literary scholar. Bernstein holds the Donald T. Regan Chair in the Department of English at the University of Pennsylvania. He is one of the most prominent members of the Language (or L=A=N=G=U=A=G=E) poets. In 2006 he was elected a Fellow of the American Academy of Arts and Sciences. In 2005, Bernstein was awarded the Dean's Award for Innovation in Teaching at the University of Pennsylvania. He has also been a visiting professor at Columbia University, Brown University, and Princeton University.
Praise For Attack of the Difficult Poems…
"A superb poet and great inventor of poetry, Charles Bernstein dazzlingly invents the essay for poetry: professing in a gorilla suit and white tuxedo."
-George Lakoff

"This is a smart and invigorating book that triumphantly demonstrates Charles Bernstein's goals and values. Those who want satire, those who want earnest discussion, those who want information, those who want to get a sense of personality, those who want theory, those who want entertainment, even those who wish to be confirmed in their beliefs and those who wish to nurse their resentments, will all find something here."
-Daisy Fried

"I regret to inform you that Charles Bernstein's Attack of the Difficult Poems is highly unsuitable (not suitable) for National Poetry Month. Not suitable for acceptance by the publications of the Modern Language Association or its affiliate, the Annual Convention. Not suitable for readers under the age of five. Not suitable for endorsement by the Paris Review. Not suitable for your average television sitcom. Not suitable for tenure. Not suitable for free distribution. Not suitable for variations in the ontological condition. Not suitable for readers of generic poetry. Not suitable for the MFA. For everyone else: priceless."
-Tan Lin

"Bernstein, a professor at the University of Pennsylvania and a remarkably prolific author, essayist and critic, not only defends difficult poems in this collection of essays, but also poetry in general, both as a reader and as a practitioner. In prose that is unconventional and often very funny, he comments as well on the state of the humanities, teaching, translation, the history of language media and the connections between poetry and visual art."

"Charles Bernstein's new book has arrived from Chicago University Press, at my London address, enveloped in several stiff boxes like some kind of rare document. This book, Attack of the Difficult Poems, is a must-have, must-read, for every practicing poet in Britain and Ireland. They should buy their copies online today. This may involve wasting money. But it will be worth it."
-Todd Swift