The Bedtrick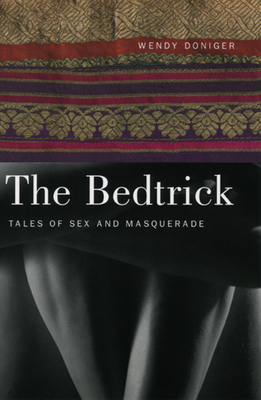 The Bedtrick
Tales of Sex and Masquerade
University of Chicago Press, Paperback, 9780226156439, 598pp.
Publication Date: December 1, 2005
* Individual store prices may vary.
Buy at Local Store
Enter your zip code below to purchase from an indie close to you.
or
Not Currently Available for Direct Purchase
Description
"Somehow I woke up one day and found myself in bed with a stranger." Meant literally or figuratively, this statement describes one of the best-known plots in world mythology and popular storytelling. In a tour that runs from Shakespeare to Hollywood and from Abraham Lincoln to Casanova, the erudite and irrepressible Wendy Doniger shows us the variety, danger, and allure of the "bedtrick," or what it means to wake up with a stranger.
"The Bedtrick" brings together hundreds of stories from all over the world, from the earliest recorded Hindu and Hebrew texts to the latest items in the "Weekly World News," to show the hilariously convoluted sexual scrapes that people get into and out of. Here you will find wives who accidentally commit adultery with their own husbands. You will learn that in Hong Kong the film "The Crying Game" was retitled "Oh No My Girlfriend Has a Penis." And that President Clinton was not the first man to be identified by an idiosyncratic organ. Funny, sexy, and engaging, "The Bedtrick" is a masterful work of energetic storytelling and dazzling scholarship. Give it to your spouse "and" your lover.
"Doniger seduces the reader with her casual erudition, tempering the dizzying accumulation of evidence with wry asides." Edward Rothstein, "New York Times.
About the Author
Wendy Doniger (Ph.D. Harvard University) is Mircea Eliade Distinguished Service Professor of the History of Religions at the University of Chicago. She first trained as a dancer under George Balanchine and Martha Graham and then went on to complete two doctorates in Sanskrit and Indian Studies (from Harvard and Oxford). She has taught at Harvard, Oxford, the School of Oriental and African Studies at the University of London, and the University of California at Berkeley. In 1984 she was elected president of the American Academy of Religion, in 1989 a fellow of the American Academy of Arts and Sciences, in 1996 a member of the American Philosophical Society, and in 1997 president of the Association for Asian Studies. She has been awarded seven honorary degrees, and her book The Hindus: An Alternative History was a finalist for the National Book Critics Circle Award.