Mr. Jefferson and the Giant Moose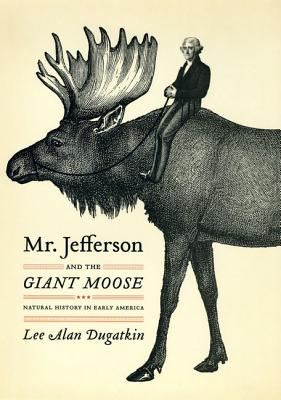 Mr. Jefferson and the Giant Moose
Natural History in Early America
University of Chicago Press, Hardcover, 9780226169149, 166pp.
Publication Date: October 1, 2009
* Individual store prices may vary.
Buy Now
or
Shop Local
Enter your zip code below to purchase from an indie close to you.
Description
In the years after the Revolutionary War, the fledgling republic of America was viewed by many Europeans as a degenerate backwater, populated by subspecies weak and feeble. Chief among these naysayers was the French Count and world-renowned naturalist Georges-Louis Leclerc de Buffon, who wrote that the flora and fauna of America (humans included) were inferior to European specimens.
Thomas Jefferson author of the Declaration of Independence, U.S. president, and ardent naturalist spent years countering the French conception of American degeneracy. His "Notes on Virginia" systematically and scientifically dismantled Buffon's case through a series of tables and equally compelling writing on the nature of his home state. But the book did little to counter the arrogance of the French and hardly satisfied Jefferson's quest to demonstrate that his young nation was every bit the equal of a well-established Europe. Enter the giant moose.
The American moose, which Jefferson claimed was so enormous a European reindeer could walk under it, became the cornerstone of his defense. Convinced that the sight of such a magnificent beast would cause Buffon to revise his claims, Jefferson had the remains of a seven-foot ungulate shipped first class from New Hampshire to Paris. Unfortunately, Buffon died before he could make any revisions to his "Histoire Naturelle, "but the legend of the moose makes for a fascinating tale about Jefferson's passion to prove that American nature deserved prestige.
In "Mr. Jefferson and the Giant Moose, "Lee Alan Dugatkin vividly recreates the origin and evolution of the debates about natural history in America and, in so doing, returns the prize moose to its rightful place in American history.
About the Author
Lee Alan Dugatkin is a professor and Distinguished University Scholar in the Department of Biology at the University of Louisville. His main area of research is the evolution of social behavior. He is currently studying the evolution of cooperation, aggression, antibiotic resistance, risk-taking behavior, and the interaction between genetic and cultural evolution. Dr. Dugatkin is the author of over 145 articles on evolution and behavior in journals such as Nature and The Proceedings of the National Academy of Sciences and several trade monographs on the evolution of cooperation and the history of science. He is also the author of Principles of Animal Behavior, Second Edition.
Praise For Mr. Jefferson and the Giant Moose…
"For those of us who think that science is international, Lee Alan Dukatin's Mr. Jefferson and the Giant Moose will come as a shock. In this case it was anything but. It was the French against the Americans, Georges-Louis Leclerc de Buffon versus Thomas Jefferson, in a dispute over the relative degree of degeneracy exhibited by the flora and fauna of the Old and New Worlds. According to Buffon, American plants and animals, including native Americans, are merely degenerate versions of European forms. Jefferson attempted to counter this Eurocentric chauvinism by displaying an American moose that was larger than any of the European ungulates—the giant moose in the title of this fascinating book."—David Hull


-David Hull

"This fascinating book combines a deep knowledge of biology with a love of American history to tell a story that grips like a thriller. Lee Alan Dugatkin introduces you to Thomas Jefferson and the giant moose, an animal so great and imposing that never again could the belittling naturalists of Europe assume that American natural life was inferior.  Sparkling on the surface, profound beneath the waters, this is a book that will be happy reading for people of all interests and ages."—Michael Ruse, author of Darwinism and Its Discontents


-Michael Ruse

"If you want a shot of environmental patriotism, this book is a good choice."

"Fast-paced, snappy and suspenseful."
-Emmanuelle Smith

"A fascinating and very readable account of a controversial natural history issue in early nineteenth century America."

"A scrupulously researched and well-told narrative."
-Miranda Weiss