The Stone Angel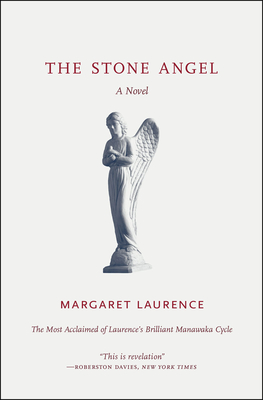 The Stone Angel
University of Chicago Press, Paperback, 9780226469362, 318pp.
Publication Date: June 15, 1993
* Individual store prices may vary.
Buy at Local Store
Enter your zip code below to purchase from an indie close to you.
or
Buy Here
Description
"The Stone Angel," "The Diviners," and "A Bird in the House" are three of the five books in Margaret Laurence's renowned "Manawaka series," named for the small Canadian prairie town in which they take place. Each of these books is narrated by a strong woman growing up in the town and struggling with physical and emotional isolation.
In "The Stone Angel," Hagar Shipley, age ninety, tells the story of her life, and in doing so tries to come to terms with how the very qualities which sustained her have deprived her of joy. Mingling past and present, she maintains pride in the face of senility, while recalling the life she led as a rebellious young bride, and later as a grieving mother. Laurence gives us in Hagar a woman who is funny, infuriating, and heartbreakingly poignant.
"This is a revelation, not impersonation. The effect of such skilled use of language is to lead the reader towards the self-recognition that Hagar misses." Robertson Davies, "New York Times"
"It is Laurence's] admirable achievement to strike, with an equally sure touch, the peculiar note and the universal; she gives us a portrait of a remarkable character and at the same time the picture of old age itself, with the pain, the weariness, the terror, the impotent angers and physical mishaps, the realization that others are waiting and wishing for an end." Honor Tracy, "The New Republic"
"Miss Laurence is the best fiction writer in the Dominion and one of the best in the hemisphere." "Atlantic"
" Laurence] demonstrates in "The Stone Angel" that she has a true novelist's gift for catching a character in mid-passion and life at full flood. . . . As Hagar Shipley] daydreams and chatters and lurches through the novel, she traces one of the most convincing and the most touching portraits of an unregenerate sinner declining into senility since Sara Monday went to her reward in Joyce Cary's "The Horse's Mouth."" "Time"
"Laurence's triumph is in her evocation of Hagar at ninety. . . . We sympathize with her in her resistance to being moved to a nursing home, in her preposterous flight, in her impatience in the hospital. Battered, depleted, suffering, she rages with her last breath against the dying of the light. "The Stone Angel" is a fine novel, admirably written and sustained by unfailing insight." Granville Hicks, "Saturday Review"
""The Stone Angel" is a good book because Mrs. Laurence avoids sentimentality and condescension; Hagar Shipley is still passionately involved in the puzzle of her own nature. . . . Laurence's imaginative tact is strikingly at work, for surely this is what it feels like to be old." Paul Pickrel, "Harper's.
About the Author
Margaret Laurence was born in Neepawa, Manitoba, in 1926. Upon graduation from Winnipeg's United College in 1947, she took a job as a reporter for the "Winnipeg Citizen,"
From 1950 until 1957 Laurence lived in Africa, the first two years in Somalia, the next five in Ghana, where her husband, a civil engineer, was working. She translated Somali poetry and prose during this time, and began her career as a fiction writer with stories set in Africa.
When Laurence returned to Canada in 1957, she settled in Vancouver, where she devoted herself to fiction with a Ghanaian setting: in her first novel, "This Side Jordan," and in her first collection of short fiction, "The Tomorrow-Tamer," Her two years in Somalia were the subject of her memoir, "The Prophet's Camel Bell,"
Separating from her husband in 1962, Laurence moved to England, which became her home for a decade, the time she devoted to the creation of five books about the fictional town of Manawaka, patterned after her birthplace, and its people: "The Stone Angel," "A Jest of God," "The Fire-Dwellers," "A Bird in the House," and "The Diviners,"
Laurence settled in Lakefield, Ontario, in 1974. She complemented her fiction with essays, book reviews, and four children's books. Her many honours include two Governor General's Awards for Fiction and more than a dozen honorary degrees.
Margaret Laurence died in Lakefield, Ontario, in 1987.
"From the Paperback edition."