Modern American Religion, Volume 3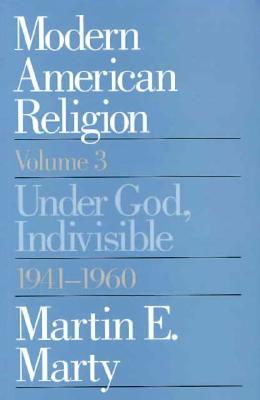 Modern American Religion, Volume 3
Under God, Indivisible, 1941-1960
University of Chicago Press, Hardcover, 9780226508986, 555pp.
Publication Date: August 1996
* Individual store prices may vary.
Shop Local
Enter your zip code below to find indies closest to you.
Description
In this third volume of his acclaimed chronicle of faith in twentieth-century America, Martin E. Marty presents the first authoritative account of American religious culture from the entry of the United States into World War II through the Eisenhower years.
"Under God, Indivisible, 1941-1960" is the first book to systematically address religion and the roles it played in shaping the social and political life of mid-century America. A work of exceptional clarity and historical depth, it will interest general readers as well as historians of American and church history.
"The series will become a standard account of the nation's variegated religious culture during the current century. The four volumes, the fruition of decades of research, may rank as much honored Marty's most significant contribution to U.S. studies." Richard N. Ostling, "Time"
"When America needs some advice or commentary on the state of modern theology, the person it turns to is Martin Marty." "Publishers Weekly"

About the Author
Martin E. Marty is the Fairfax M. Cone Distinguished Service Professor Emeritus in the University of Chicago Divinity School. He is the author of over fifty books, including most recently "Dietrich Bonhoeffer's Letters and Papers from Prison: A Biography".