Learning to Eat Soup with a Knife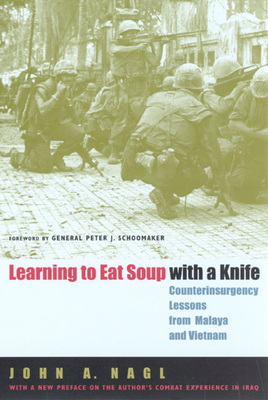 Learning to Eat Soup with a Knife
Counterinsurgency Lessons from Malaya and Vietnam
University of Chicago Press, Paperback, 9780226567709, 249pp.
Publication Date: September 15, 2005
* Individual store prices may vary.
Buy Now
or
Shop Local
Enter your zip code below to purchase from an indie close to you.
Description
Invariably, armies are accused of preparing to fight the previous war. In" Learning to Eat Soup with a Knife," Lieutenant Colonel John A. Nagl a veteran of both Operation Desert Storm and the current conflict in Iraq considers the now-crucial question of how armies adapt to changing circumstances during the course of conflicts for which they are initially unprepared. Through the use of archival sources and interviews with participants in both engagements, Nagl compares the development of counterinsurgency doctrine and practice in the Malayan Emergency from 1948 to 1960 with what developed in the Vietnam War from 1950 to 1975.
In examining these two events, Nagl the subject of a recent "New York Times Magazine" cover story by Peter Maass argues that organizational culture is key to the ability to learn from unanticipated conditions, a variable which explains why the British army successfully conducted counterinsurgency in Malaya but why the American army failed to do so in Vietnam, treating the war instead as a conventional conflict. Nagl concludes that the British army, because of its role as a colonial police force and the organizational characteristics created by its history and national culture, was better able to quickly learn and apply the lessons of counterinsurgency during the course of the Malayan Emergency.
With a new preface reflecting on the author's combat experience in Iraq, "Learning to Eat Soup with a Knife" is a timely examination of the lessons of previous counterinsurgency campaigns that will be hailed by both military leaders and interested civilians.

About the Author
John A. Naglis a retired lieutenant colonel of the U.S. Army. A graduate of West Point and a Rhodes Scholar, he received his Ph.D. from St. Antony s College, Oxford, where he wrote his thesis on counterinsurgency in Malaya and Vietnam. Nagl served as the military assistant to deputy secretaries of Defense Paul Wolfowitz and Gordon England, where he coauthored the U.S. Army and Marine Corps counterinsurgency field manual with generals David Petraeus and James M. Mattis. He is the former president of the Center for a New American Security and the ninth headmaster of the Haverford School in Pennsylvania.


Praise For Learning to Eat Soup with a Knife…
 "[A] highly regarded counterinsurgency manual."—Michael Schrage, Washington Post


-Michael Schrage

"The success of DPhil papers by Oxford students is usually gauged by the amount of dust they gather on library shelves. But there is one that is so influential that General George Casey, the US commander in Iraq, is said to carry it with him everywhere. Most of his staff have been ordered to read it and he pressed a copy into the hands of Donald Rumsfeld when he visited Baghdad in December. Learning to Eat Soup with a Knife (a title taken from T.E. Lawrence — himself no slouch in guerrilla warfare) is a study of how the British Army succeeded in snuffing out the Malayan insurgency between 1948 and 1960 — and why the Americans failed in Vietnam. . . . It is helping to transform the American military in the face of its greatest test since Vietnam. "—Tom Baldwin, Times (UK)
-Tom Baldwin

"An extremely relevant text. Those interested in understanding the difficulties faced by Coalition forces in Iraq and Afghanistan, or who want to grasp the intricacies of the most likely form of conflict for the near future, will gain applicable lessons. [Learning to Eat Soup with a Knife] offers insights about how to mold America''s armed forces into modern learning organizations. As the Pentagon ponders its future in the Quadrennial Defense Review, one can only hope that Nagl''s invaluable lesson in learning and adapting is being exploited."—Frank G. Hoffman, Proceedings of the United State Naval Institute
-Frank G. Hoffman

"Brutal in its criticism of the Vietnam-era Army as an organization that failed to learn from its mistakes and tried vainly to fight guerrilla insurgents the same way it fought World War II. In [Learning to Eat Soup With a Knife], Col. Nagl, who served a year in Iraq, contrasts the U.S. Army''s failure with the British experience in Malaya in the 1950s. The difference: The British, who eventually prevailed, quickly saw the folly of using massive force to annihilate a shadowy communist enemy. . . . Col. Nagl''s book is one of a half dozen Vietnam histories -- most of them highly critical of the U.S. military in Vietnam -- that are changing the military''s views on how to fight guerrilla wars. . . .The tome has already had an influence on the ground in Iraq. Last winter, Gen. Casey opened a school for U.S. commanders in Iraq to help officers adjust to the demands of a guerrilla-style conflict in which the enemy hides among the people and tries to provoke an overreaction. The idea for the training center, says Gen. Casey, came in part from Col. Nagl''s book, which chronicles how the British in Malaya used a similar school to educate British officers coming into the country. ''Pretty much everyone on Gen. Casey''s staff had read Nagl''s book,'' says Lt. Col. Nathan Freier, who spent a year in Iraq as a strategist. A British brigadier general says that ''Gen. Casey carried the book with him everywhere.''"—Greg Jaffe, Wall Street Journal
-Greg Jaffe

"As the United States enters its fifth year of the war on terror, military leaders are conducting low-intensity and counter-insurgency operations in several different areas around the world. Of the different books produced on this subject, LTC John Nagl''s Learning to Eat Soup with a Knife is an absolute must for those who want to gain valuable insight on some of the hard lessons of fighting an insurgency before actually getting on the ground. The book expertly combines theoretical foundations of insurgencies with detailed historical lessons of Malaya and Vietnam to produce some very profound and topical implications for current military operations. The true success of the book is that Nagl discusses all of these complex issues in an easy-to-follow and straight-forward manner. . . . I read this book upon returning from my tour in Iraq after commanding a company on the ground for a year. I was amazed at how insightful and ''true'' the conclusions were and wished that I had read it before I deployed."—NickAyers, Armor 
-Nick Ayers

"Nagl, currently a Military Assistant to the Deputy Secretary of Defense, focuses on organizational culture as the key to defeating insurgencies: successful militaries learn and adapt."—"Recommended Reading on Counterinsurgency," Nathaniel Fick, Proceedings of the United States Naval Institute
-Nathaniel Fick

"The capacity to adapt is always a key contributor to military success. Nagl combines historical analysis with a comprehensive examination of organisational theory to rationalise why, as many of his readers will already intuitively sense, ''military organisations often demonstrate remarkable resistance to doctrinal change'' and fail to be as adaptive as required. His analysis is helpful in determining why the U.S. Army can appear so innovative in certain respects, and yet paradoxically slow to adapt in others."—Nigel R F Aylwin-Foster, Military Review
-Nigel R F Aylwin-Foster

"One key army text is Learning to Eat Soup with a Knife by Lt. Col. John Nagl, which focuses on counterinsurgency lessons from the 1950s war in Malaya and from the Vietnam War. The title phrase was used by Lawrence of Arabia in describing the messy and time-consuming nature of defeating insurgents. Nagl focuses on the ability of armies to learn from mistakes and adapt their strategy and tactics—skills in which he finds U.S. forces lacking. He shows how the British in Malaya were nimble enough to defeat a communist insurgency, while the U.S. military in Vietnam clung to a failing doctrine of force. Sadly, the Pentagon had not absorbed such insights before invading Iraq. Nagl himself says he learned a lot more during a one-year tour in Iraq. His ideas, if applied back in mid-2003, might have checked the growth of the Sunni insurgency in Iraq and prevented Sunni Islamists from provoking a civil war with Iraqi Shiites. It may be too late for the Army''s new doctrine to stop Iraq from falling apart....It''s past time to make Learning to Eat Soup with a Knife required reading at the White House."—Trudy Rubin, Philadelphia Inquirer
-Trudy Rubin

"As the Baker/Hamilton club considers America''s options in the Middle East, its members would do well to browse currently hot books on counterinsurgency [including] Learning to Eat Soup with a Knife: Counterinsurgency Lessons from Malaya and Vietnam...Stimulating, thoughtful and serious."—Michael Ledeen, The Jerusalem Post
-The Jerusalem Post