Somebody Else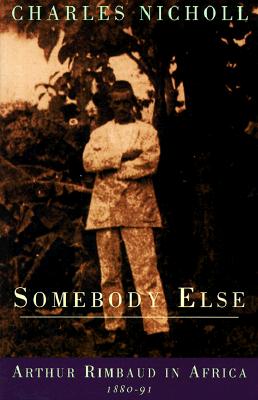 Somebody Else
Arthur Rimbaud in Africa 1880-91
University of Chicago Press, Paperback, 9780226580296, 352pp.
Publication Date: May 15, 1999
* Individual store prices may vary.
Buy Now
or
Shop Local
Enter your zip code below to purchase from an indie close to you.
Description
At the age of twenty-five, Arthur Rimbaud the infamous author of "A Season in Hell, " the pioneer of modernism, the lover and destroyer of Verlaine, the "hoodlum poet" celebrated a century later by Bob Dylan and Jim Morrison turned his back on poetry, France, and fame, for a life of wandering in East Africa.
In this compelling biography, Charles Nicholl pieces together the shadowy story of Rimbaud's life as a trader, explorer, and gunrunner in Africa. Following his fascinating journey, Nicholl shows how Rimbaud lived out that mysterious pronouncement of his teenage years: "Je est un autre" I is somebody else.
"Rimbaud's fear of stasis never left him. 'I should like to wander over the face of the whole world, ' he told his sister, Isobelle, 'then perhaps I'd find a place that would please me a little.' The tragedy of Rimbaud's later life, superbly chronicled by Nicholl, is that he never really did." "London Guardian"
"Nicholl has excavated a mosaic of semi-legendary anecdotes to show that they were an essential part of the poet's journey to become 'somebody else.' Not quite biography, not quite travel book, in the end "Somebody Else" transcends both genres." Sara Wheeler, "Daily Telegraph"
"At the end of "Somebody Else" Rimbaud is more interesting and more various than before: he is not less mysterious, but he is more real." Susannah Clapp, "Observer Review.
About the Author
Charles Nicholl has won numerous awards, including the Hawthornden Prize and the James Tait Black Prize for Biography. The author of "Somebody Else: Arthur Rimbaud in Africa" and "The Reckoning: The Murder of Christopher Marlowe," among other books. Nicholls articles have appeared in "Granta, Rolling Stone," and the "London Review of Books,"