Behind the Dream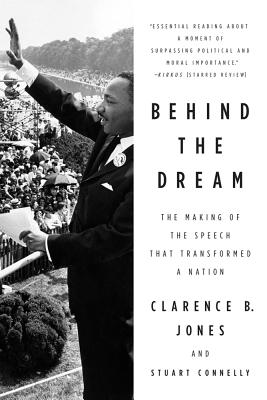 Behind the Dream
The Making of the Speech That Transformed a Nation
St. Martin's Press, Hardcover, 9780230103689, 224pp.
Publication Date: January 4, 2011
* Individual store prices may vary.
Buy at Local Store
Enter your zip code below to purchase from an indie close to you.
or
Not Currently Available for Direct Purchase
Description
"I have a dream." When those words were spoken on the steps of the Lincoln Memorial on August 28, 1963, the crowd stood, electrified, as Martin Luther King, Jr. brought the plight of African Americans to the public consciousness and firmly established himself as one of the greatest orators of all time. "Behind the Dream "is a thrilling, behind-the-scenes account of the weeks leading up to the great event, as told by Clarence Jones, co-writer of the speech and close confidant to King. Jones was there, on the road, collaborating with the great minds of the time, and hammering out the ideas and the speech that would shape the civil rights movement and inspire Americans for years to come.
About the Author
Clarence B. Jones served as speechwriter and counsel to Martin Luther King, Jr. and is currently a scholar-in-residence and visiting professor at Stanford University's Martin Luther King, Jr. Institute. Selected by Time magazine in 1972 as one of "The 100 Future Leaders of America," and twice recognized in Fortune magazine as "A Businessman of the Month," Jones has received numerous state and national awards recognizing his significant contributions to American society. He lives in Palo Alto, CA.Stuart Connelly is an author and filmmaker. He is a recent National Educational Press Association Award winner and blogs for The Huffington Post. He divides his time between rural Pennsylvania and New York.
Praise For Behind the Dream…
"A revealing insider's account of how King improvised parts of his 'I Have a Dream' speech at 1963's March on Washington."  -- USA TODAY
"Rev. Martin Luther King, Jr. changed the course of American history by challenging – and inspiring – the country to confront injustice and live up to our founding ideals.  The words he spoke at the Lincoln Memorial on August 28, 1963 will forever be immortalized for their beauty and power, and they will forever echo in the soul of American life.  Jones and Connelly capture the fascinating story behind this historic moment, shedding new light on a speech that ushered in a new dawn for the nation."—Mayor Michael Bloomberg
 "The author provides numerous intriguing insider insights about life on the road with King. . . . Essential reading about a moment of surpassing political and moral importance."--Kirkus [starred review]
"The words of Dr. King live on as a gift to our country. As someone who stood beside him during those years, Clarence B Jones puts them in context and brings the stories around them to life. He and Stuart Connelly take us inside the greatest moments of the American civil rights movement and behind the scenes of a speech that awakened our collective conscience"--Soledad O'Brien
"America would be a very different place if it weren't for the hard work of men like Clarence Jones. Different -- and vastly less just.  Behind the Dream takes us behind the scenes of Dr. King's historic 'I Have a Dream' speech, which Jones helped write.  It's a story that is as remarkable as it is inspiring."—Arianna Huffington 
"The words 'I Have a Dream' are as applicable today as they were all those years ago. Behind The Dream provides a beautiful glimpse at the origins of an enduring work. Clarence B. Jones illuminates the history in a way no one else could. To learn the story of the speech's creation from the man who was there is to appreciate Martin's genius all the more."--Betty Williams,Nobel Peace Laureate, President and Founder, World Centers of Compassion for Children International.
"What elevates this book above most scholarly tomes is its rare and invaluable insider's insight into not only the happenings of the day but also the people involved." --Irish Examiner 
"The book is wonderful, and rewarding for students of public speaking as well as of the civil rights era. Jones is particularly skilled at giving us the contingent nature of events as the happen, and that is a great gift to anyone who wants to understand where we've really come from. Highly recommended." -- Nick Morgan, Forbes.com 
Monday, Jan 17, 2011
Clarence Jones helped draft Martin Luther King Jr.'s "I Have A Dream" speech and was a close personal adviser and lawyer to the civil rights leader. But he almost turned down the chance to work with King. He explains what changed his mind in his memoir, Behind the Dream. More at NPR.org