Detained Without Cause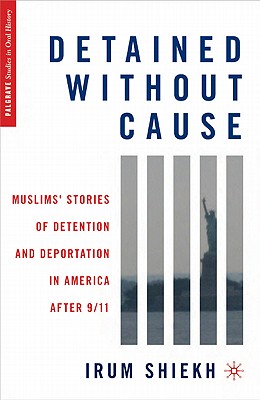 Detained Without Cause
Muslims' Stories of Detention and Deportation in America After 9/11
Palgrave MacMillan, Paperback, 9780230103825, 244pp.
Publication Date: August 3, 2010
* Individual store prices may vary.
Buy Now
or
Shop Local
Enter your zip code below to purchase from an indie close to you.
Description
Immigrants from Pakistan, Egypt, India, and Palestine who were racially profiled and detained following the September 11 attacks tell their personal stories in a collection which explores themes of transnationalism, racialization, and the global war on terror, and explains the human cost of suspending civil liberties after a wartime emergency.
Praise For Detained Without Cause…
"Part of a series of oral history projects, this brave book presents the first-person narratives of six Muslim men detained on flimsy or invented charges and ultimately deported after September 11, 2001. Shiekh is methodical about her research methods and explicit about her communication with detainees, who were humiliated, lied to, and abused in prison. The stories are heartbreaking both in their individuality and their repetition. Shiekh's dedication to honoring these voices and exposing the mistreatment of these men creates momentum from what these families lost."—Publishers Weekly "Illuminates the strains between national security and civil liberty and puts a human face on some often-demonized members of society."—Kirkus  "Detained Without Cause meticulously illuminates the struggles, humiliation and life-changing experiences of Muslims in the United States following the 9/11 attacks. These first-hand accounts give voice to human suffering endured in the Orwellian world of law enforcement after Sept. 11, 2001. Especially timely, Detained's powerful narratives reveal the danger of suspending civil liberties, bending the rule of law, and justifying human rights abuses allegedly in the name of national security or the infamous "war on terror."—Washington Report "In the aftermath of 9/11, U.S. officials pushed the war on terror well beyond the rule of law in ways that Orwell and Kafka imagined decades ago. Irum Shiekh's Detained without Cause offers first-hand accounts of a troubling period in recent history by giving voice to those who suffered brutal treatment by American operatives."--Michael Welch, author of Scapegoats of September 11th "Irum Shiekh's book is a model of ethically engaged scholarship--carefully and deliberately researched but also passionately committed to justice. Its strength lies in the six powerful narratives of 9/11 detainees that make up its core. And it is precisely in creating a space where those individual voices can be heard that Shiekh most eloquently indicts a system that so completely disregarded individual rights in the name of a supposedly greater good."--Teresa Barnett, Center for Oral History Research, University of California, Los Angeles "This book provides a collection of powerful oral histories of a very important moment in U.S. history, narrated from the perspective of those whose lives were irrevocably transformed by the experience of racial profiling, detention, and deportation after the events of 9/11. The stories all illustrate the devastating and painful impact on the narrators of being considered 'terrorist' suspects, detained in prison, abused by guards, confronted with the hypocrisy of the U.S. justice system regarding their constitutional rights, and returned to their home countries with a profound transformation in their earlier beliefs in the U.S. as a land of freedom and democracy."--Sunaina Maira, Professor, Asian American Studies, University of California at Davis