A Full Life with Autism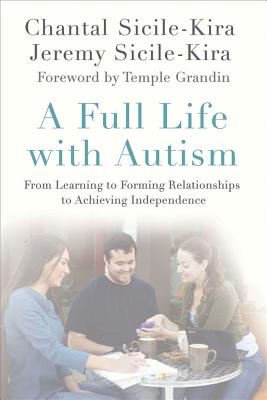 A Full Life with Autism
From Learning to Forming Relationships to Achieving Independence
Palgrave MacMillan, Paperback, 9780230112469, 228pp.
Publication Date: March 27, 2012
* Individual store prices may vary.
Buy at Local Store
Enter your zip code below to purchase from an indie close to you.
or
Not Currently Available for Direct Purchase
Description
A guide for helping our children lead meaningful and independent lives as they reach adulthood
In the next five years, hundreds of thousands of children with autism spectrum disorder will reach adulthood. And while diagnosis and treatment for children has improved in recent years, parents want to know: What happens to my child when I am no longer able to care for or assist him? Autism expert Chantal Sicile-Kira and her son Jeremy offer real solutions to a host of difficult questions, including how young adults of different abilities and their parents can:
*navigate this new economy where adult service resources are scarce
*cope with the difficulties of living apart from the nuclear family
*find, and keep a job that provides meaning, stability and an income
*create and sustain fulfilling relationships.
About the Author
Chantal Sicile-Kira is an award-winning author, columnist, and speaker on autism. The author of books including "A Full Life with Autism", Sicile-Kira writes for "The Huffington Post" and PsychologyToday.com. Her story has been covered by a wide variety of media, including NPR, PBS, MTV, the "Chicago Tribune", "Newsweek", and Fox News.

Jeremy Sicile-Kira was diagnosed as severely autistic when he was born in 1989. In 2010, he gave a commencement speech at his high school graduation. Jeremy writes for autism magazines, AutismCollege.com, and was featured in "Newsweek". In 2007, Jeremy was on MTV s "True Life" in the episode, "I Have Autism," which won a 2007 Voice Award.Temple Grandin is the bestselling author of "Animals in Translation", among others.

Dr. Temple Grandin (born August 29, 1947) is an American doctor of animal science, a professor at Colorado State University, a best-selling author, an autistim activist, and a consultant to the livestock industry on animal behavior. She also created the "hug box," a device to calm those on the autism spectrum. The subject of an award-winning, 2010 biographical film, Temple Grandin, she also was listed in the Time 100 list of the one hundred most influential people in the world in the "Heroes" category.
Praise For A Full Life with Autism…
"Sicile-Kira and her autistic son, Jeremy, join forces in this guidebook to help parents and their autistic offspring move beyond childhood and evolve into an adult life…The author breaks each large, seemingly overwhelming undertaking into small, doable tasks…A proactive method for raising an adult child with special needs."—Kirkus Reviews
 "If you are raising a teen with significant autistic challenges, you need to read A Full Life With Autism. If you have a young child who is non-verbal, you need to read A Full Life With Autism. Chantal Sikle-Kira's newest book is co-authored with her son Jeremy, who did not speak, but who writes eloquently and powerfully. The mother-son dialogue, facilitated by keyboard and iPad, is a striking example of the potential inside many non-verbal people. Together, they walk the reader through the challenges of leaving home and establishing an independent life as an adult. The step by step manner in which they do this, and Jeremy's calm and steady voice, will be very reassuring to readers. Topics discussed include making friends, romance, housing, college and finally, earning a living. I particularly like the way this book weaves both Chantal and Jeremy's perspective into each story. In the latter part of the book, some chapters are also illustrated with stories from other families. This is a very practical guide that I highly recommend."--John Elder Robison, author of Look Me in the Eye and Be Different
"This truly impressive book by Chantal Sicile-Kira and her son Jeremy, who is in his early 20s and autistic will serve as an invaluable resource not only for families who have a youngster or young adult with autism but also for the professionals who work with these families.  A Full Life with Autism vividly brings to life not only the challenges and stresses faced by young adolescents and adults on the autism spectrum but also steps that can be taken to assist these individuals to become more independent, successful, and resilient."--Robert Brooks, Ph.D., Faculty, Harvard Medical School, co-author of Raising Resilient Children with Autism Spectrum Disorders and The Power of Resilience
"A Full Life with Autism provides a timely and compelling perspective into the struggles, challenges of adults with autism and their caregivers.  Chantal and Jeremy accurate portray so many of the issues that young adults experience as they move into the world and seek to find their voice and purpose.  A Full Life with Autism is certain to be an important resource for young adults and their families trying to understand, cope with and thrive during one of the most important transitions for an individual with autism." - Areva D. Martin, Esq., Managing Partner, Martin & Martin, LLP  and President, Special Needs Network, Inc.  Author, The Everyday Advocate : How to Stand Up for Your Child with Autism and Related Disabilities  
"Chantal Sicile-Kira, and the remarkable (once considered "retarded") Jeremy Sicile-Kira have created a work wherein their common goal is obvious: Separation, and independence for Jeremy. Their writing is filled with a refreshing respect for one another, and very often the material is quite brave."—Michael John Carley, Executive Director, GRASP, ASTEP, and the author of Asperger's From the Inside-Out
"A Full Life with Autism reminds us that the true "experts" on autism are our children; and that we, the adults, must listen to their wants and desires, then find the resources to help them realize their dreams.  I will be recommending this book to everyone I know."--Elaine Hall, founder of The Miracle Project, author of Now I See the Moon
"For individuals with autism what we 'see' rarely tells us what each is thinking, feeling or capable of accomplishing.  We must look beyond the 'behaviors' to understand what each is trying to communicate. A Life Full of Autism does this and so much more. Truly a must read!"-- Ricki G Robinson, MD, MPH, member, Scientific Review Panel of Autism Speaks and author of Autism Solutions: How to Create a Healthy and Meaningful Life for Your Child
"A Full Life with Autism is a must-read book for parents and professionals in the autism field."--Steve Edelson, Ph.D., Director, Autism Research Institute
"A full life can have many different meanings for many different people, and yet, on a deeper level, when we hear the phrase "full life" we seem to become united by a common human objective we would not wish to deny ourselves or others. In this important book, Jeremy and Chantal Sicile Kira have captured the value of our shared humanity within our diversity. They do this gracefully, leading the way, as the next generation of young people with autism seek their paths."--Valerie Paradiz, PhD, Director, Autistic Global Initiative, Autism Research Institute
"Unfortunately, many adults on the autism experience have high rates of unemployment or underemployment. Some of our most gifted live in poverty and have few options in life. Chantal and Jeremy have creatively worked to create an engaged life for Jeremy and his family. This book provides very practical ideas for transition planning and provides a template that others can use as they support adults moving into adulthood.  I highly recommend this for any family or individual as they prepare for transition planning."--Dr. Cathy Pratt, Director, Indiana Resource Center for Autism
"This book will help us all navigate the new world of employment for persons on the autistic spectrum."--Michael Bernick, Former Director, California Labor Department; autism employment activist
"A Full Life with Autism is an important book that should be on the shelf of all schools, therapists, parents, and caregivers serving individuals with an autism spectrum diagnosis. Jeremy Sicile-Kira exemplifies the urgency with which society must impart resources and make a paradigm shift in attitude.  Jeremy is living proof that respect and support are key to an individual with an ASD diagnosis living a full life. In this book, Jeremy gives the reader valuable insights into the mind of the nonverbal, significantly-impacted individual with ASD, and Jeremy and Chantal both give practical tips and directions to parents, caregivers, and others for major facets of life integral to living a fulfilling life as an adult with autism."--Teri Arranga, Director, AutismOne, Editor-in-Chief, Autism Science Digest
"This book is a wonderful guide...should be in a recommended, if not required book list of literature necessary for students, administrators, teachers, social workers and others who work with those with ASD."-- Carl G. Hillier, O.D., F.C.O.V.D., Fellow, College of Optometrists in Vision Development, Clinical Director: San Diego Center for Vision Care
"The transition into adult life is poorly understood and seldom researched in the field of autism. Jeremy and Chantal Sicile Kira have given us important lessons from their knowledge and experience. They write honestly and clearly and their book will be of great benefit to the thousands of other families who wish to support their loved one with dignity and respect."-- Anne M. Donnellan, Professor Emerita, U. of Wisconsin-Madison
"Chantal and Jeremy have provided  a wonderful overview of what every individual, parent, and professional needs to know as your child move into adulthood."--Darlene Hanson MA,CCC, Director of Communication Services, WAPADH Speech and Language Pathologist
"As a corporate disability consultant, I continually emphasize the importance of preparation in creating successful careers. This book is a must read for individuals with autism, families, & professionals to help everyone understand the critical components of planning in the areas of living, working, and playing and how this planning contributes to a high quality of life in adulthood."--James Emmett, Corporate Disability Consultant, Director, APSE HR Connect
"I have a new favorite book about autism!  Chantal Sicile-Kira has clearly done her homework in addressing issue for young adults with autism and their parents. But having parallel comments and suggestions from her son Jeremy adds a deeper perspective and value to an already excellent book.  I will be returning to this book.  The dual voices of parent advocate and self-advocate, commenting in parallel on the same topics, are a revelation to read."--Scott Standifer, Disability Policy & Studies, School of Health Professions
"This is a highly readable book. Chantal and Jeremy Sicile Kira succeed in addressing how each individual on the spectrum is unique and will need personally tailored supports."--Lars Perner, Ph.D., Assistant Professor of Clinical Marketing, USC; Chair, Panel of People on the Spectrum of Autism Advisors, Autism Society of America
"A Full Life With Autism lays out in plain language the challenges of transition to adulthood for persons with autism. This book belongs on the shelf, e-player or e-reader of everyone who strives to help people with autism and ASDs."--Joshua Feder MD, Director of Research of the Interdisciplinary Council on Developmental and Learning Disorders
"If you are a parent of a person with autism or a professional in this area, you will find that you will refer to the book over and over again. It is both timely and timeless."—Dr. Donald N. Cardinal, Dean of the College of Educational Studies at Chapman University
"Chantal Sicile-Kira and her son Jeremy guide us on a  journey that ever an increasing number of families are confronting as adolescents on the spectrum transition to young adulthood. With insight and candor, underscored by Chantal's extensive efforts in the field, they outline the options that are available and offer wide ranging guidance to those on this journey."--Barbara Firestone PhD Presidents & CEO-The Help Group and Louis Vismara MD Board Chair-The MIND Institute
"Although written for parents of transition-age youth, this book has the invaluable perspective of those living with autism that is of interest to all families and professionals dedicated to individuals with autism spectrum disorders.  Reading this book I felt as if I was experiencing the challenges to realize the goals and dreams associated with becoming a young adult along with Jeremy and Chantal Sicile-Kira."--Laura J. Hall, Professor, Department of Special Education San Diego State University
"In collaboration with her extraordinary son, Jeremy, Chantal Sicile-Kira has written an essential book. And when it comes to demystifying the mysteries of autism - and providing the best sort of pragmatic perspective on its complexities - she is the best writer on the subject at work today"--Douglas Kennedy, Author of Leaving the World, The Moment, Temptation