The Trial of the Haymarket Anarchists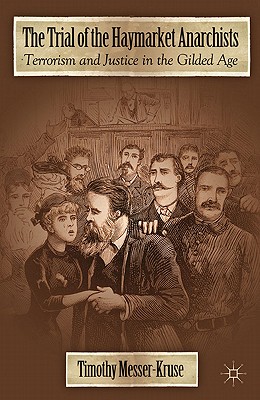 The Trial of the Haymarket Anarchists
Terrorism and Justice in the Gilded Age
Palgrave MacMillan, Paperback, 9780230120778, 236pp.
Publication Date: August 16, 2011
* Individual store prices may vary.
Buy at Local Store
Enter your zip code below to purchase from an indie close to you.
or
Buy Here
Description
The Trial of the Haymarket Anarchists is the culmination of seven years of research into the 1886 Haymarket bombing and subsequent trial. It not only overturns the prevailing consensus on this event, it documents in detail how the basic facts, as far as they can be determined, have been distorted, obscured, or suppressed for seventy years.
About the Author
T. MESSER-KRUSE Interim Vice-Provost for Academic Programs and Dean of the Graduate College at Bowling Green State University, USA. He is the author of The Yankee International: Marxism and the American Reform Tradition among other books.
Praise For The Trial of the Haymarket Anarchists…
*Winner of the Best Book award from Labor History* 
 
"In The Trial of the Haymarket Anarchists, Timothy Messer-Kruse rewrites the Haymarket trial's legacy. He provides well-written, counter-arguments for historians to consider."—Journal of Illinois History

'Messer-Kruse chronicles Chicago's underground network of anarchists—sensational stories, ripe for a Hollywood movie.'—Time Out Chicago

"Messer-Kruse's greatest discovery: 'Textbooks ignore the transcript and say the trial was unfair. But if you judge it by standards of its day, it was (fair). In those days, you were convicted by testimony, not fingerprints and DNA. They had 162 witnesses and a lot of he said/she said. But then, that's what a trial was."—The Chicago Tribune

'Desiring to present a more complete and nuanced telling of this monumental event in US history, Messer-Kruse will undoubtedly ruffle many academic feathers with his revisionism. Clearly written and impressively researched, this text will spark conversation among historians and those interested in US labor history. Highly recommended.'—CHOICE

'Messer-Kruse chronicles Chicago's underground network of anarchists—sensational stories, ripe for a Hollywood movie.'—Time Out Chicago 'Drawing on his meticulous research, Timothy Messer-Kruse raises provocative questions about a momentous event that scholars thought we understood. He shows that history is in the details, from the chemical makeup of a bomb fragment to the exact moment when a man boarded a streetcar. The Trial of the Haymarket Anarchists challenges us to set aside preconceptions, read sources carefully, and challenge prevailing assumptions. How do we reconcile conflicting points of view, and how do we place the minutiae of courtroom records in broader context? Messer-Kruse offers persuasive insights into how various actors in the Haymarket violence saw themselves, and what it all meant for labor, politics, and ideology in industrializing America.'—Rebecca Edwards, Vassar College, author of New Spirits: Americans in the 'Gilded Age,' 1865-1905

'Timothy Messer-Kruse's study extends earlier challenges by Paul Avrich to the generally iconic treatment of the Haymarket 'martyrs' and their martyrdom. It explicitly and directly explodes assumptions about the anarchists in the labor movement and their alleged innocence in the use of dynamite. Whatever the purposes, his subjects emerge sharply and credibly not as victimized leaders of an eight-hour movement but as genuine anarchists attempting to seize and direct the course of history.'—Mark Lause, Associate Professor, Department of History, University of Cincinnati