Torture Team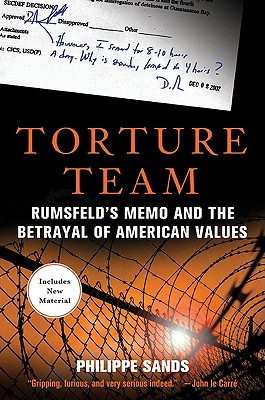 Torture Team
Rumsfeld's Memo and the Betrayal of American Values
Palgrave MacMillan, Hardcover, 9780230603905, 254pp.
Publication Date: May 1, 2008
* Individual store prices may vary.
Buy at Local Store
Enter your zip code below to purchase from an indie close to you.
or
Not Currently Available for Direct Purchase
Description
On December 2, 2002 the U.S. Secretary of Defense, Donald Rumsfeld, signed his name at the bottom of a document that listed eighteen techniques of interrogation--techniques that defied international definitions of torture. The Rumsfeld Memo authorized the controversial interrogation practices that later migrated to Guantanamo, Afghanistan, Abu Ghraib and elsewhere, as part of the policy of extraordinary rendition. From a behind-the-scenes vantage point, Phillipe Sands investigates how the Rumsfeld Memo set the stage for a divergence from the Geneva Convention and the Torture Convention and holds the individual gatekeepers in the Bush administration accountable for their failure to safeguard international law.
""
"The Torture Team" delves deep into the Bush administration to reveal" "
- How the policy of abuse originated with Donald Rumsfeld, Dick Cheney and George W. Bush, and was promoted by their most senior lawyers
- Personal accounts, through interview, of those most closely involved in the decisions
- How the Joint Chiefs and normal military decision-making processes were circumvented
- How Fox TV's "24" contributed to torture planning
- How interrogation techniques were approved for use
- How the new techniques were used on Mohammed Al Qahtani, alleged to be "the 20th highjacker"
- How the senior lawyers who crafted the policy of abuse exposed themselves to the risk of war crimes charges.
About the Author
Philippe Sands is an international lawyer and a professor of law at University College London. He is the author of Lawless World and is frequently a commentator on news and current affairs programs including CNN, MSNBC, and BBC World Service. He has been involved in many leading international cases, including those involving the treatment of British detainees at Guantanamo Bay. He lives in London, England.
Praise For Torture Team…
"Rigorous, honest, devastating; I couldn't put it down." -- Vanessa Redgrave
"Gripping, furious and very serious indeed". -- John le Carré
"Sands has written a page-turning investigation into one of the darkest mysteries in American history: how a country that has led the world on human rights came to embrace a policy of barbaric abuse. One by one, he corners the suspects and sifts the clues, shedding new light at each step along the way." -- Jane Mayer, staff writer, The New Yorker Magazine "Philippe Sands has uncovered the proper assignment of responsibility for torture and cruel and unusual punishment administered by the U.S. in the so-called Global War on Terror. Read this book to learn who made these decisions.  More importantly, read it to learn how under George W. Bush and Richard B. Cheney America abandoned its strongest pillar of power--its own integrity." --Colonel Lawrence Wilkerson, former Chief of Staff to Secretary of State Colin Powell "A remorseless, shocking, forensic narrative,
Torture Team
 leads us from Rumsfeld's office in the Pentagon, via a score of eager-to-please lawyers and bureaucrats, and shows us the brutal consequences for one detainee. The parallel with Nazi Germany's descent into immorality is impossible to escape. This may well be the most important book to emerge since 9/11."
-- Robert Harris, journalist and bestselling author of
Pompeii
,
Imperium
and
The Ghost
 "Sands's...book put[s] "the torture team" - the group of more than a half dozen Bush Administration lawyers who gave the green light for the introduction of torture - into sharp focus." - Scott Horton,
Harper's Magazine
 "
Torture Team
, Sands's book...may well be the best bit of contemporary investigative journalism you will read: it is right up there with Woodward and Bernstein, a tour de force of relentlessly dogged pursuit, of interviews with guilty men acquired against all the odds, a beautifully told and humane narrative that follows a paper trail and nails the truth."  --
The Sunday Times
(London) 
"Philippe Sands uses extensive interviews and documents to portray with painstaking accuracy what occurred in the White House – and that it did so because lawyers at the highest levels of government enabled it to happen…Torture Team's purpose is not solely to ascribe blame, however, though it does so with clarity and precision. Sands' other goal is to consider redress for these crimes." – The Financial Times
"No wonder the former Rumsfeld capo, Douglas Feith, is trying to discredit a damaging interview he gave to the British lawyer Philippe Sands for another recent and essential book on what happened,
Torture Team
." -- Frank Rich,
The New York Times