Chasing Shadows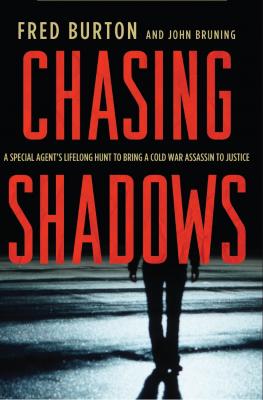 Chasing Shadows
A Special Agent's Lifelong Hunt to Bring a Cold War Assassin to Justice
Palgrave MacMillan, Hardcover, 9780230620551, 258pp.
Publication Date: April 12, 2011
* Individual store prices may vary.
Buy at Local Store
Enter your zip code below to purchase from an indie close to you.
or
Not Currently Available for Direct Purchase
Description
On a warm Saturday night in July 1973 in Bethesda Maryland, a gunman stepped out from behind a tree and fired five point-blank shots into Joe Alon, an unassuming Israeli Air Force pilot and family man. Alon's sixteen-year-old neighbor, Fred Burton, was deeply shocked by this crime that rocked his sleepy suburban neighborhood. As it turned out, Alon wasn't just a pilot he was a high-ranking military official and with intelligence ties. The assassin was never found and the case was closed. In 2007, Fred Burton who had since become a State Department counterterrorism special agent reopened the case. Here, Burton spins a gripping tale of the secret agents, double dealings, terrorists and heroes he encounters he chases leads around the globe in an effort to solve this decades-old murder. From swirling dogfights over Egypt and Hanoi to gun battles on the streets of Beirut, this action-packed thriller looks in the dark heart of the Cold War to show power is uses, misused, and sold to the most convenient bidder.
About the Author
FRED BURTON is Vice President of Intelligence and Counterterrorism at Stratfor, the largest global private intelligence company, and is one of the world s foremost experts on security, terrorists and terrorist organizations.
Mr. Burton is a former State Department counter terrorism deputy chief and DSS Agent who orchestrated the arrest of Ramzi Yousef, the mastermind of the first World Trade Center bombing. Mr. Burton also conducted the debriefings of the U.S. hostages held in Lebanon; investigated the plane crash that killed President Zia of Pakistan, the U.S. ambassador to Pakistan, and a U.S. Army general. Burton was instrumental in the development of the State Department s Rewards for Justice Program to target terrorists like Yousef and Osama Bin Laden; investigated the assassination of Israeli President Rabin; the killing of Rabbi Meir Kahane; the al-Qaeda New York City bombing plots; the Libyan-backed terrorist attacks on diplomats in Sana a and Khartoum; and countless other terrorist attacks and threats around the globe.
Burton is the author of a bestselling memoir, "Ghost: Confessions of a Counterterrorism Agent, " and "Chasing Shadows: A Special Agent s Hunt to Bring a Cold War Assassin to Justice" (Palgrave, 2011).
John R. Bruning is the coauthor of the critically acclaimed Outlaw Platoon (with Sean Parnell) and of House to House (with David Bellavia). He wrote dispatches from the field while embedded with an infantry unit in post-Katrina New Orleans, and received the prestigious Thomas Jefferson Award for Journalism from the Department of Defense for an article he wrote while embedded with the 3rd Combat Aviation Brigade s TF-Brawler in Afghanistan. He lives in Oregon.