Martin's Dream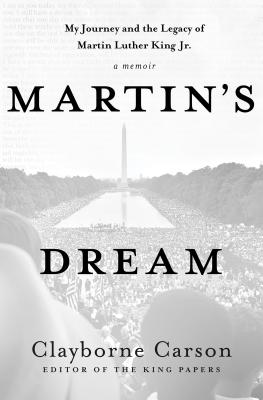 Martin's Dream
My Journey and the Legacy of Martin Luther King Jr.
Palgrave MacMillan, Hardcover, 9780230621695, 297pp.
Publication Date: January 8, 2013
* Individual store prices may vary.
Buy at Local Store
Enter your zip code below to purchase from an indie close to you.
or
Not Currently Available for Direct Purchase
Description
On August 28, 1963 hundreds of thousands of demonstrators flocked to the nation's capital for the March on Washington for Jobs and Freedom, where Dr. Martin Luther King Jr. delivered his famous "I Have a Dream" speech. It was Clayborne Carson's first demonstration. A nineteen year old black student from a working-class family in New Mexico, Carson hitched a ride to Washington. Unsure how he would return home, he was nonetheless certain that he wanted to connect with the youthful protesters and community organizers who spearheaded the freedom struggle. Decades later, Coretta Scott King selected Dr. Carson then a history professor at Stanford University-- to edit the papers of her late husband.
In this candid and engrossing memoir, he traces his evolution from political activist to activist scholar. He vividly recalls his involvement in the movement's heyday and in the subsequent turbulent period when King's visionary Dream became real for some and remained unfulfilled for others. He recounts his conversations with key African Americans of the past half century, including Black Power firebrand Stokely Carmichael and dedicated organizers such as Ella Baker and Bob Moses. His description of his long-term relationship with Coretta Scott King sheds new light on her crucial role in preserving and protecting her late husband's legacy.
Written from the unique perspective of a renowned scholar, this highly readable account gives readers valuable new insights about the global significance of King's inspiring ideas and his still unfolding legacy.
About the Author
Clayborne Carson, Palo Alto, California, is professor of history and founding director of the Martin Luther King, Jr., Research and Education Institute at Stanford University. He is also the author of "In Struggle: SNCC and the Black Awakening of the 1960s".
Praise For Martin's Dream…
"Drawing from his personal journals and records, Carson offers a personal and candid account of his evolution from political activist into a self-described 'activist scholar' in his new book Martin's Dream."--Black Christian News
"[Carson] details his work on the vast number of King documents he and his colleagues have assembled, his complex interactions with the King family and others, and his evolving view of Dr. King -- from an African American civil rights leader to a farsighted visionary and revolutionary advocate for global peace, economic fairness and social justice. He also calls attention to the significant discoveries of the King Papers project that have received little public attention."--History News Network
"The founding director of the Martin Luther King, Jr. Research and Education Institute reviews his own life, tells how he became involved with the publication of King's papers, and charts the complicated choreography of his relationship with the King family. . .Compelling aspects of memoir and cultural history." —Kirkus Reviews
"Carson's testament to the universal relevance of King's ideas and farsighted vision behind his emphasis on cooperation among people of all colors adds an insightful perspective on King's mighty accomplishments" —Publishers Weekly
"A remarkably candid memoir. . . No matter how much you may think you know about the Civil Rights Movement, you will learn from Carson's journey and will likely be surprised by the many challenges he faced as he struggled to define and to preserve Dr. King's many contributions for posterity." —Michelle Alexander, author of the bestselling The New Jim Crow
"Clayborne Carson's compelling memoir is full of meaningful insights. This book is a must-read!"—Clarence Jones, author of Behind the Dream
"Clay Carson's compelling personal story confirms Coretta King's wisdom in entrusting the Martin Luther King papers to his care. We owe Clay a tremendous debt of gratitude for bringing us a richer understanding of Martin King and the philosophy of creative non-violence to which he gave his life. We are still on a journey to Martin's 'Beloved Community' and we are fortunate Clay Carson has shared his own journey with us." —Andrew Young, author of Walk In My Shoes