Walk in My Shoes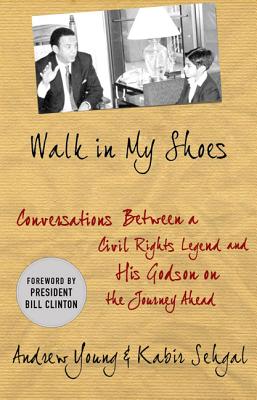 Walk in My Shoes
Conversations Between a Civil Rights Legend and His Godson on the Journey Ahead
Palgrave MacMillan, Hardcover, 9780230623606, 246pp.
Publication Date: May 11, 2010
* Individual store prices may vary.
Buy at Local Store
Enter your zip code below to purchase from an indie close to you.
or
Not Currently Available for Direct Purchase
Description
A top aide to Martin Luther King, Jr., Andrew Young has been a witness to history and has made his own. During the civil rights movement, he worked tirelessly as a strategist and negotiator during the campaigns that resulted in the passage of the Civil Rights Act and Voting Rights Act, and was at Martin Luther King, Jr.'s side when he was assassinated. For years, in correspondence and conversation, he has been mentoring his godson, Kabir Sehgal. In this entertaining and provocative discourse, Young shares his thoughts and meditations on such important topics as race, civil rights, faith, and leadership. Young offers his wisdom on these subjects to a new generation of young men and women in hopes that his battle-tested voice will inspire and encourage those in whose hands the world will soon rest.
About the Author
Andrew Young was John Edwards's longest serving and most trusted aide. He raised more than $10 million for the politician's various causes and played a key role in Edwards's efforts to become president of the United States.

Kabir Sehgal started his class newspaper in second grade and has been writing ever since.A bestselling author of several books, he is also a jazz bassist and Grammy-winning producer.One day he hopes to drive a tuk tuk through the streets of India. But for now he rides the subway in New York City.


Praise For Walk in My Shoes…
Praise for Walk in My Shoes:
"A motivating history and personal story about family, courage, and faith. Walk in My Shoes is filled with the wisdom, insight, and candor only experience could harness."—Newt Gingrich, former house speaker
"This brilliant, courageous, and intelligent man has stood for right and for Civil Rights for all people.  In this book, we can follow the development of a young African American mind and the development of the movement which changed this country.  He was brave, he was loving, and he was there. Thank God he lived to tell about it."—Maya Angelou
"This book re-affirms what all of Andrew Young's friends and colleagues have always known.  Andy is a preacher.  Every story, episode, illustration is in fact a sermon.  And every reader will be instructed and inspired by Andy's wisdom and experience."—Vernon E. Jordan, Jr., Senior Managing Director of Lazard
"Andrew Young and Kabir Sehgal open up their hearts with pitch-perfect sincerity.  This is a fiercely inspiring cross-generational memoir filled with folk wisdom, human frailty, and sweet victory amongst the fangs of defeatism.  Consider this book a joy."—Douglas Brinkley
"Andrew Young and Kabir Sehgal have woven together years of their candid and unvarnished conversations to create a wonderful combination of biography, memoir, and guide to life. This is an enlightening book that shows how great wisdom is passed down to new generations."—Walter Isaacson, president of The Aspen Institute
"Andrew Young witnessed the depths of modern times -- he saw us at our very worst, and yet he has written an intensely personal love letter to America. This is a love story -- love of country -- it's also a story about loss and regret, good and evil. Andrew Young was present at the creation of the movement that changed our country forever."—Brian Williams, Anchor and Managing Editor, NBC Nightly News
"Andrew Young and Kabir Sehgal have produced a valuable book, one that offers timeless lessons of faith, love and leadership. The book illuminates the civil rights revolution of the 1960s and calls upon its readers—each in our own way —to carry on the work of building a more perfect America with courage and vision and humility." —Senator Joe Lieberman
"Filled with wisdom and political insight, Walk in My Shoes is graceful, yet sharp. Hip, yet respectful. It is a blueprint for future generations to speak openly and honestly with one another."—The Honorable Kasim Reed, Mayor of Atlanta
"Working with Ambassador Young has taught me that we share more similarities than differences between our generations. The conversations with his Godson should remind us how important it is to combine what we have in common with our unique perspectives in order to change the community and the world."—Clifford "TI" Harris, Jr., Entertainer/Actor
"This is a great gift to America's children - now and in the future. Andy Young has perfect pitch when it comes to telling the great story of a civil rights crusade that is a hymn to  courage, non violence and rule of law. He was there, every step of the way, and his reflections are deeply personal and historic. I am personally grateful for this important work."--Tom Brokaw
 "Ambassador Young wears many hats, and in this book he takes on the role of Godfather speaking to his Godson. As I read it I can picture many of the conversations he and I had on the many trips I've taken with him to Africa. And having just an opportunity to walk with him on the continent of Africa showed me a different Africa and a different Andrew Young. For that I am eternally grateful. He is my friend, he is the world's friend and I hope that every emerging leader picks up this book as a reference for what it takes to change the world."—Chris Tucker, Actor, Comedian, Activist
"Engaging, raw, and impactful, this book should be a required reading for us all. Ambassador Young imparts wisdom on his God son with an organic humor and sensibility that can make you laugh and cry at the same time."--Jamie Foxx, Oscar-winning actor, Grammy-winning performer "Andrew Young found himself at the intersection of history when the civil rights movement changed America's future by redeeming its past. Forty years later, a new generation, represented by Kabir Sehgal, sees another meeting with history approaching. What could be more valuable than learning from a man who has experienced what it means to forge inspiration in the crucible of conflict?"—Deepak Chopra
"Wisdom can be found in many places. In Walk in My Shoes, a young man turns to his mentor Uncle Andy for guidance on faith, spirituality and love. Not only is this an innovative memoir, these pages are filled with irreverent honesty and timeless wisdom."—Archbishop Desmond Tutu
"I grew up right around the corner from Mayor Young, as we called Andrew Young then. He's always had vision and always shared his vision with the younger community. This type of leadership doesn't happen without considerations and conversations with the next generation, as we see in this inspiring and important book."—Aldrin "DJ Toomp" Davis, Grammy-winning producer
"Andrew Young is an American hero who has spent a lifetime leading by example. Walk in My Shoes, poignantly illustrates Ambassador Young's wisdom and devotion to others.  In this book, the life lessons of a great man makes us all better."--Mellody Hobson, President, Ariel Investments
"Walk in My Shoes is indicative of the distinctions and intersections between generations that offer both challenges and opportunities for all of us to communicate with one another in order to make the world a better place. This book probes those areas that we like to ignore regarding what it means to be a visionary, and what sacrifices have to be made in order to positively influence change. Steeped in a vulnerable narrative between two men, this is a bold and intelligent work."—Joycelyn A. Wilson, PhD. Scholar of Hip-Hop Studies, The HipHop2020 Curriculum Project, Morehouse College
"A fascinating glimpse into the life of one of America's most important activists....Lively and passionate."--Birmingham News