The Art of Making Magazines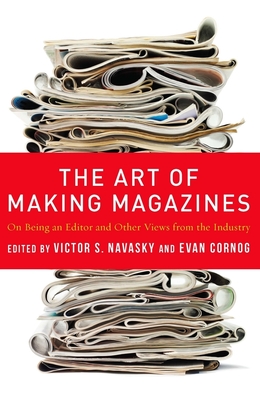 The Art of Making Magazines
Columbia University Press, Hardcover, 9780231131360, 200pp.
Publication Date: September 5, 2012
* Individual store prices may vary.
Buy at Local Store
Enter your zip code below to purchase from an indie close to you.
or
Not Currently Available for Direct Purchase
Description
In this entertaining anthology, editors, writers, art directors, and publishers from such magazines as Vanity Fair, The New Yorker, The New Republic, Elle, and Harper's draw on their varied, colorful experiences to explore a range of issues concerning their profession. Combining anecdotes with expert analysis, these leading industry insiders speak on writing and editing articles, developing great talent, effectively incorporating art and design, and the critical relationship between advertising dollars and content. They emphasize the importance of fact checking and copyediting; share insight into managing the interests (and potential conflicts) of various departments; explain how to parlay an entry-level position into a masthead title; and weigh the increasing influence of business interests on editorial decisions. In addition to providing a rare, behind-the-scenes look at the making of successful and influential magazines, these contributors address the future of magazines in a digital environment and the ongoing importance of magazine journalism. Full of intimate reflections and surprising revelations, The Art of Making Magazines is both a how-to and a how-to-be guide for editors, journalists, students, and anyone hoping for a rare peek between the lines of their favorite magazines. The chapters are based on talks delivered as part of the George Delacorte Lecture Series at the Columbia School of Journalism. Essays include: "Talking About Writing for Magazines (Which One Shouldn't Do)" by John Gregory Dunne; "Magazine Editing Then and Now" by Ruth Reichl; "How to Become the Editor in Chief of Your Favorite Women's Magazine" by Roberta Myers; "Editing a Thought-Leader Magazine" by Michael Kelly; "Fact-Checking at The New Yorker" by Peter Canby; "A Magazine Needs Copyeditors Because...." by Barbara Walraff; "How to Talk to the Art Director" by Chris Dixon; "Three Weddings and a Funeral" by Tina Brown; "The Simpler the Idea, the Better" by Peter W. Kaplan; "The Publisher's Role: Crusading Defender of the First Amendment or Advertising Salesman?" by John R. MacArthur; "Editing Books Versus Editing Magazines" by Robert Gottlieb; and "The Reader Is King" by Felix Dennis.
About the Author
Victor S. Navasky, editor of The Nation from 1978, became editorial director and publisher in 1995 and is now its publisher emeritus. He is the George Delacorte Professor of Magazine Journalism at Columbia University's Graduate School of Journalism, where he directs the Delacorte Center of Magazines and chairs the Columbia Journalism Review. He is the author of Kennedy Justice; Naming Names, which won a National Book Award; and A Matter of Opinion, which won the George Polk Book Award. Evan Cornog is dean of the School of Communication at Hofstra University and a former publisher of the Columbia Journalism Review. He is the author of three books of political history and served as press secretary to New York Mayor Edward I. Koch. He has worked on the editorial staffs of The New Yorker and Wigwag Magazines and has written for The New Yorker, The New York Times, The Los Angeles Times, The Boston Globe, The American Scholar, and Columbia Journalism Review.